EVOLV TOUR XL-R Electric Scooter
EVOLV TOUR XL-R Electric Scooter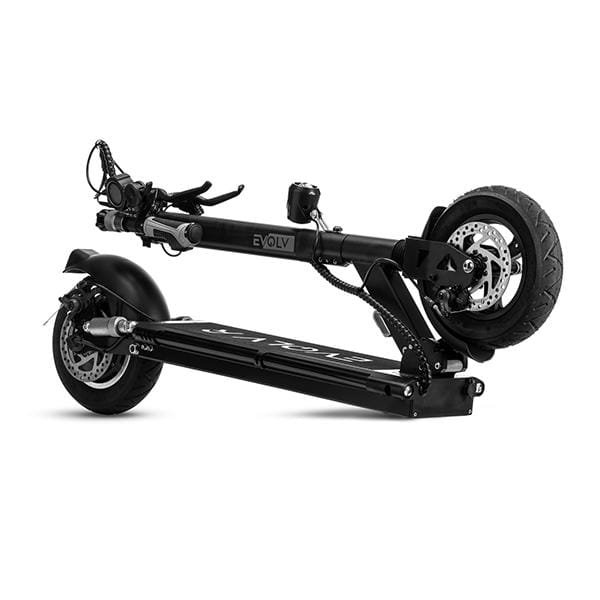 The New EVOLV Tour XL-R takes a stealthy turn from the Tour series with an all-black frame and deck.The 52V 1,300W peak powertrain and the reliable LG lithium-ion battery allows the Tour XL-R to reach a speed of 50 km/h. With a 23 kg body and 10″ pneumatic tires for functionality and style, the Tour XL-R can travel a long distance of 40 – 50 km.
Equipped with dual disc brakes and shock absorbers for comfort, it delivers maximum stopping power. The dual suspension provides optimal comfort on every ride, without the added weight. Pack it away easily with the locking pull lever for folding and unfolding.
Range 40 – 50 km \ 25 – 31 mi.
Charge Time 6.5 – 9 hrs
Top Speed 50 km/h – 31 mph
Weight 23 kg or 50.7 lbs
Water Resistance IP54 Official Certified
Max Load 120 kg (265 lbs)
Foldable Size 122 x 19 x 38.1 cm 48 x 7.5 x 15 inches
Suspension Front and Rear Spring
Brakes Front and Rear Disc
Powertrain 1000W Nominal / 1300W Peak
Battery LG 52V 18.2aH
Tire Size 10 inch Pneumatic
Tire Pressure 50 PSI to 55 PSI
Color Black and Grey Combination
POWER
1000W Nominal / 1300W Peak

TIRES
10 inch Pneumatic tyre
Test Ride EVOLV TOUR XL-R Electric Scooter Before You Buy
BOOK A NO-OBLIGATION TEST DRIVE TODAY. LET'S FIND THE RIGHT ELECTRIC SCOOTER FOR YOU
EVOLV TOUR XL-R Electric Scooter WARRANTY

PARTS
1 Year Limited Warranty On Parts, Controller, Display, Throttle, Brakes etc ...

BATTERY
6 Months Limited Warranty On Battery, 6 Months On Branded Battery
R\E
3 Days Easy Return And Exchange Policy. Terms & Conditions*
EVOLV TOUR XL-R Electric Scooter REPAIR
TOP-NOTCH WORK • HIGHEST QUALITY PARTS • FAIR PRICES
EVOLV TOUR XL-R Electric Scooter