EVOLV PRO-R ELECTRIC SCOOTER
EVOLV PRO-R ELECTRIC SCOOTER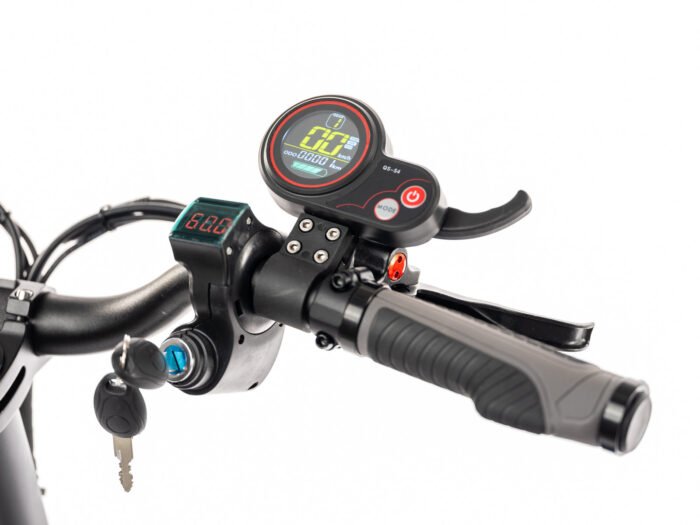 The EVOLV Pro-R was built to ride in stealth mode with an all-black frame. Ride urban roads and off-road trails in style. The 3,600W peak dual-drive powertrain at the wheels and the reliable Samsung lithium-ion battery allows the EVOLV Pro-R to reach a speed of 70 km/h. With a 36 kg body and 10″ pneumatic tires for functionality and style, the EVOLV Pro-R can travel a long distance of 70 km.
Equipped with dual 145mm hydraulic disc brakes and dual spring shocks, it effectively disperses shock when tackling uneven terrain. The rear suspension and footplate provide extra support for aggressive riding. The EVOLV Pro-R also comes stock with 10 x 3 inch all-season tires. Pack it away easily with the dual lever locking system.
Range 65 – 70 km / 40 – 43 mi.
Charge Time 8hrs
Top Speed 70 km/h / 44 mph (Check local laws before use)
Weight 36 kg (80 lbs)
Max Load 150 kg (330 lbs)
Foldable Size 128 x 25.4 x 50 cm 50.4 x 10 x 19.7 inches
Suspension Front and Rear Spring
Brakes Front and Rear Hydraulic Disc Brakes (145mm)
Powertrain 1200W Nominal per Motor
3600W Peak with Dual Motors
Battery Samsung 60V 21Ah
Tire Size 10 x 3 inch All-Season
Color Black
POWER
1200W Nominal per Motor 3600W Peak with Dual Motors

TIRES
10 x 3 inch All-Season
Test Ride EVOLV PRO-R ELECTRIC SCOOTER Before You Buy
BOOK A NO-OBLIGATION TEST DRIVE TODAY. LET'S FIND THE RIGHT ELECTRIC SCOOTER FOR YOU
EVOLV PRO-R ELECTRIC SCOOTER WARRANTY

PARTS
1 Year Limited Warranty On Parts, Controller, Display, Throttle, Brakes etc ...

BATTERY
6 Months Limited Warranty On Battery, 6 Months On Branded Battery
R\E
3 Days Easy Return And Exchange Policy. Terms & Conditions*
EVOLV PRO-R ELECTRIC SCOOTER REPAIR
TOP-NOTCH WORK • HIGHEST QUALITY PARTS • FAIR PRICES
EVOLV PRO-R ELECTRIC SCOOTER