EVOLV CITY V2 ELECTRIC SCOOTER
EVOLV CITY V2 ELECTRIC SCOOTER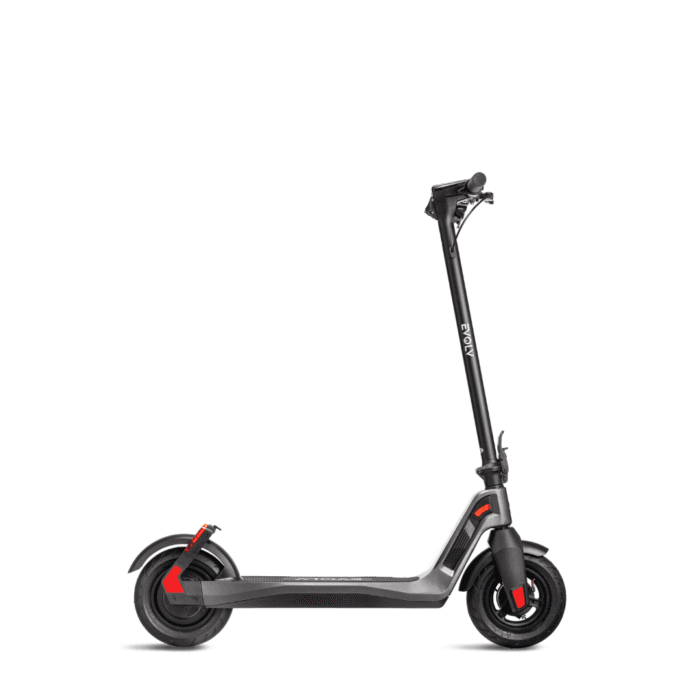 Introducing the newly launched EVOLV City electric scooter Version 2 – the perfect blend of form, function, and performance. With its sleek and stylish design, the EVOLV City V2 is a light-weight and portable electric scooter packed with features that make it an ideal choice for urban commuting, errands, or weekend adventures.
Powered by a high-performance motor, this vehicle delivers a smooth and quiet ride, with a top speed of 30 kph. It ensures you can easily zip through traffic and reach your destination in no time.
Equipped with a bright LED headlight and taillight, as well as a rear drum brake, this electric scooter is the perfect grab and go vehicle. And with its sturdy aluminum frame and anti-slip deck, you can ride with confidence and stability.
Charge Time 3 – 4 hrs
Top Speed  30 km/h (Check local laws before use) 19 mph
Range 25 – 30 km / 15 – 19 mi. (Under Ideal Conditions)
Battery 36V 10Ah
Powertrain 350W Nominal / 600W Peak Power
Weight 15 kg / 33 lbs
Max Load 100 kg (220 lbs)
Foldable Size 111 x 46 x 50 cm 43 x 18 x 19 inches
Water Resistance IP54
Lights Headlight and Taillight
Brakes Front Drum Brake
Color Black and Grey Combination
Tire Size 10 inch Pneumatic Tubeless Tires
Tire Pressure 50 to 55 PSI
POWER
350W Nominal / 600W Peak Power

RANGE
25 - 30 km / 15 - 19 mi
TIRES
10 inch Pneumatic Tubeless Tires
Test Ride EVOLV CITY V2 ELECTRIC SCOOTER Before You Buy
BOOK A NO-OBLIGATION TEST DRIVE TODAY. LET'S FIND THE RIGHT ELECTRIC SCOOTER FOR YOU
EVOLV CITY V2 ELECTRIC SCOOTER WARRANTY

PARTS
1 Year Limited Warranty On Parts, Controller, Display, Throttle, Brakes etc ...

BATTERY
6 Months Limited Warranty On Battery, 6 Months On Branded Battery
R\E
3 Days Easy Return And Exchange Policy. Terms & Conditions*
EVOLV CITY V2 ELECTRIC SCOOTER REPAIR
TOP-NOTCH WORK • HIGHEST QUALITY PARTS • FAIR PRICES
EVOLV CITY V2 ELECTRIC SCOOTER