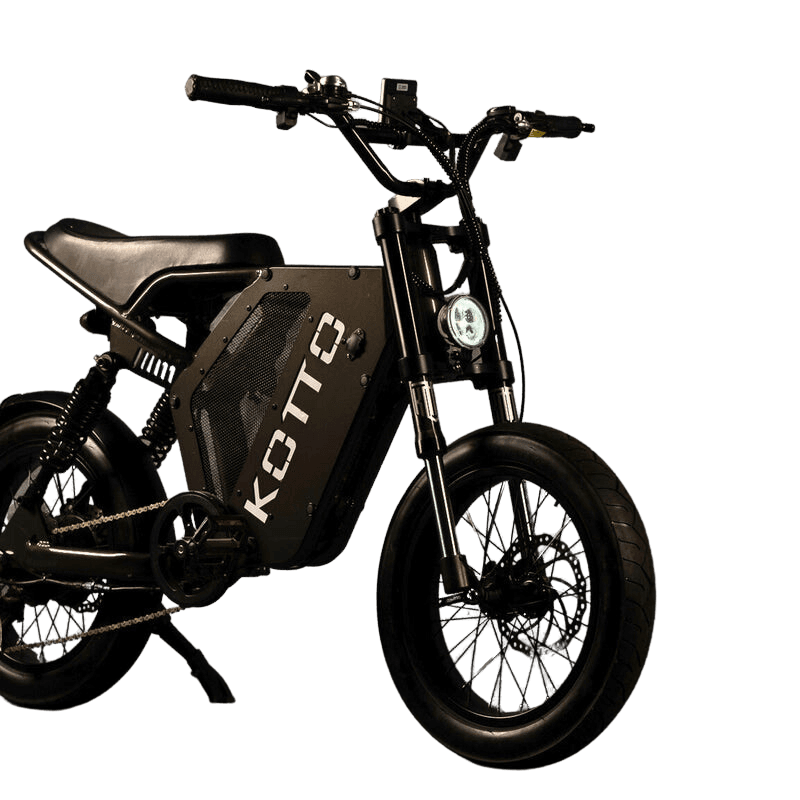 The kotto 750l is a next-generation electric bike built for enthusiasts, with front and rear suspension, and a highly customisable and modifiable design. KOTTO features an expanding lineup of aftermarket accessories and modifications. From lighting and aesthetic, to staged drivetrain upgrades, the KOTTO's thoughtful design allows riders to make their ride timeless.
Top Speed: On-road class 1/2/3 e-bike: 20MPH. Top speed may reach 26+MPH off-road
Range: 40-80 Miles. Range depends heavily on rider weight, average speed, incline, and pedal assist
Charge Time: 6-8 Hrs with standard 3A charger
Battery: 48V 25Ah LG battery. 1200Wh
Motor: 750W Nominal, 1500W Peak
Throttle: Ergonomic Thumb Throttle and pedal assist
Rear Derailleur and Gearing: **WAITING SPEC**
Suspension: Front and Rear
Frame Material: Aluminum
Fork: Dual Crown Fork
Brakes: Tektro Hydraulic Disc Brakes
Tires: **WAITING SPEC**
Inner Tube Size: **WAITING SPEC**
BATTERY
POWER
TOP SPEED

RANGE
TIRES
MAX LOAD
Test Ride KOTTO 750L ELECTRIC BIKE Before You Buy
BOOK A NO-OBLIGATION TEST DRIVE TODAY. LET'S FIND THE RIGHT ELECTRIC SCOOTER FOR YOU
KOTTO 750L ELECTRIC BIKE WARRANTY

PARTS
1 Year Limited Warranty On Parts, Controller, Display, Throttle, Brakes etc ...

BATTERY
6 Months Limited Warranty On Battery, 6 Months On Branded Battery
R\E
3 Days Easy Return And Exchange Policy. Terms & Conditions*
KOTTO 750L ELECTRIC BIKE REPAIR
TOP-NOTCH WORK • HIGHEST QUALITY PARTS • FAIR PRICES