INMOTION RS ELECTRIC SCOOTER – PRE-ORDER NOW $3999 SAVE $600 TODAY
INMOTION RS ELECTRIC SCOOTER – PRE-ORDER NOW $3999 SAVE $600 TODAY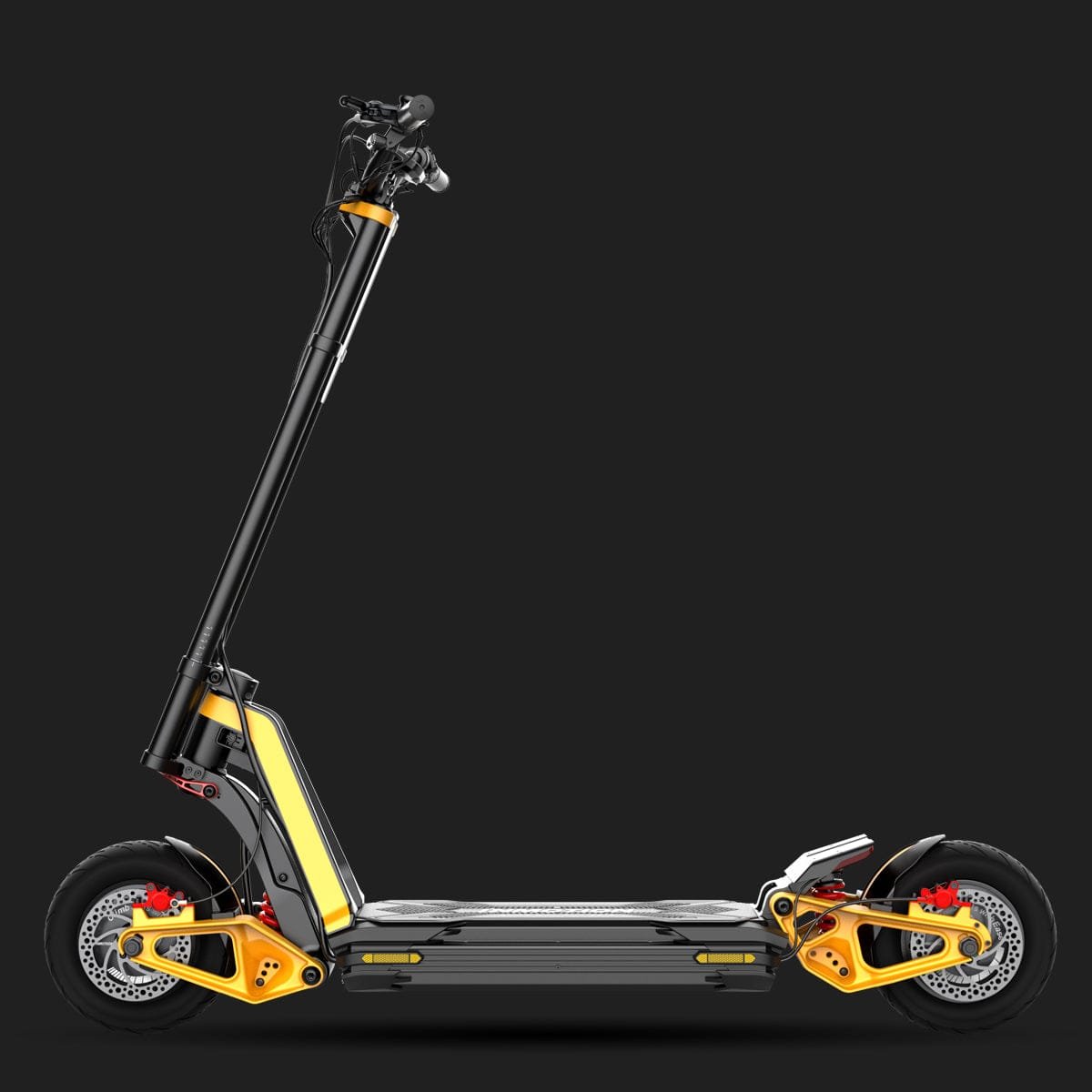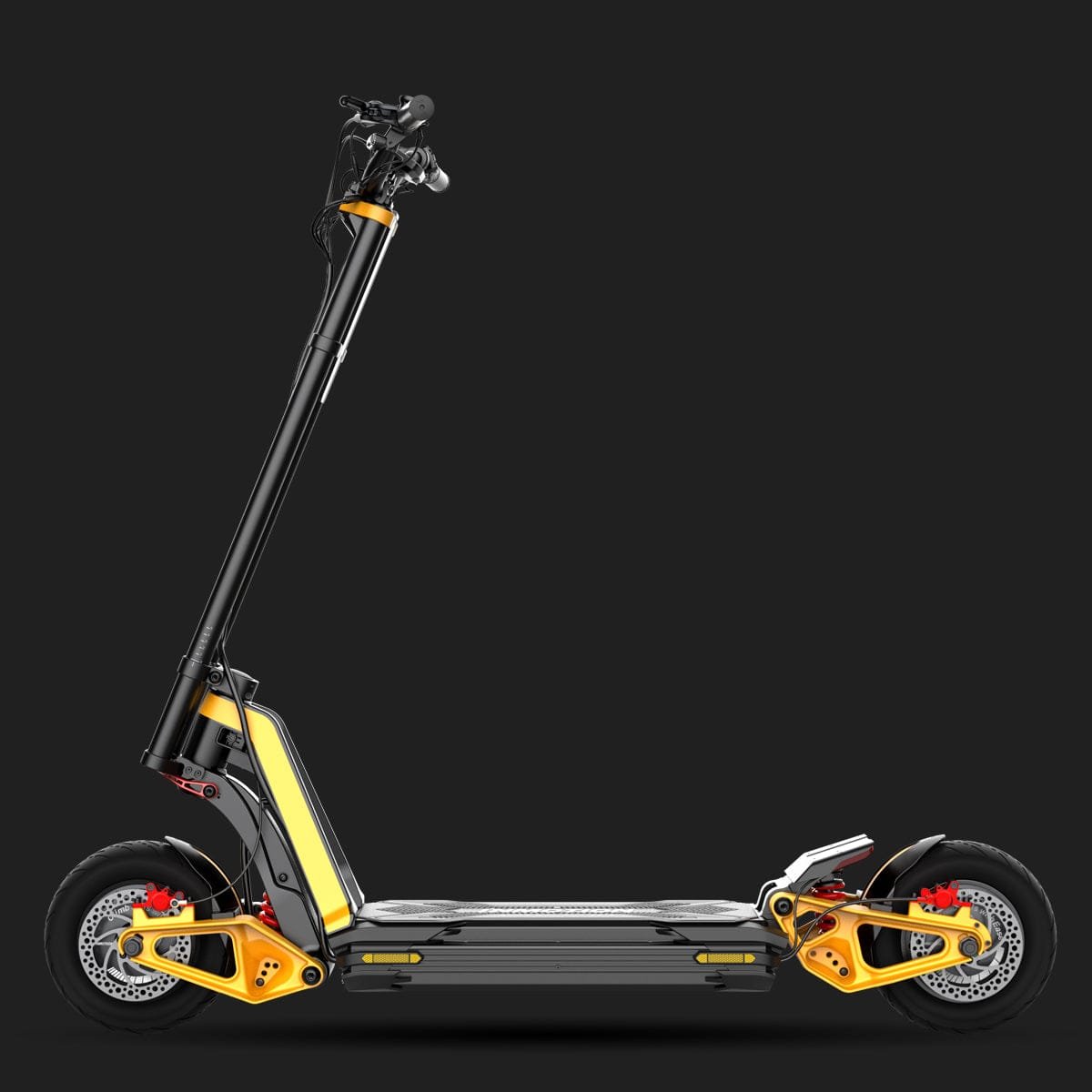 Inmotion RS electric scooter, designed for unrivalled performance. With its innovative transformation system, this scooter takes your riding experience to a whole new level. Equipped with two 2,000W motors and a staggering peak power of 8,400W, the Inmotion RS offers breathtaking speed, exceptional torque and outstanding hill-climbing capabilities.
The RS's twin 2,000W motors enable it to reach a top speed of 100km/h, outstripping most scooters in its price range. Thanks to this immense power, you can experience rapid acceleration, going from a standstill to 50km/h in a matter of seconds. What's more, conquering a steep 50% gradient is child's play for the RS.
With its powerful 72V 40AH battery made up of 21700 cells, the RS offers an impressive range of 120 km on a single charge. The integration of the Battery Management System (BMS) and dual-charge capability guarantees constant power and temperature control, ensuring safe and reliable driving. What's more, the charging speed is doubled, giving you more freedom to enjoy your journeys. Your Inmotion RS electric scooter is fully charged in less than 5 hours.
The Inmotion RS prioritises comfort and performance with its C-shaped suspension system and 11 levels of adjustable front and rear hydraulic damping. With 96mm of travel, it offers exceptional shock absorption, ensuring a smoother, more enjoyable ride.
Designed for maximum performance and comfort, the INMOTION RS is fitted with 11×3.5-inch tubeless tyres that offer exceptional traction, control and stability on any surface, enhancing the overall riding experience.
Model RS
Engine Power 2 x 2000 W
Range up to 120 km*
Flanged speed 25 km/h
Max speed 100km
Max weight 150 kgs
Dimensions 143 x 134 x 71 cm
Weight 56 kg
Ground Clearance from 183 to 303mm
Wheel diameter 11″ (27,94 cm)
Wheel type Tubeless
Battery power Lithium Ion 40Ah / 72V / 2880Wh
Max slope 50% (26.5°)
Waterproofing IPX6
Conformity CE, RoHS
Specificity 11 adjustable damping levels front and rear 26mm shock travel 1660 mm hydraulic disc brakes
Dual-charge
Regenerative electronic braking
Smart BMS Transformation system: 4 configurations
Charging time 4h30 in DualCharge about 8h30 with a single charger
SHIPPING: $299 | SHIPPING TIME: 3-4 WEEKS
BATTERY
72V 40AH 21700 cells

TIRES
MAX LOAD
Test Ride INMOTION RS ELECTRIC SCOOTER – PRE-ORDER NOW $3999 SAVE $600 TODAY Before You Buy
BOOK A NO-OBLIGATION TEST DRIVE TODAY. LET'S FIND THE RIGHT ELECTRIC SCOOTER FOR YOU
INMOTION RS ELECTRIC SCOOTER – PRE-ORDER NOW $3999 SAVE $600 TODAY WARRANTY

PARTS
1 Year Limited Warranty On Parts, Controller, Display, Throttle, Brakes etc ...

BATTERY
6 Months Limited Warranty On Battery, 6 Months On Branded Battery
R\E
3 Days Easy Return And Exchange Policy. Terms & Conditions*
INMOTION RS ELECTRIC SCOOTER – PRE-ORDER NOW $3999 SAVE $600 TODAY REPAIR
TOP-NOTCH WORK • HIGHEST QUALITY PARTS • FAIR PRICES
INMOTION RS ELECTRIC SCOOTER – PRE-ORDER NOW $3999 SAVE $600 TODAY