EVOLV STRIDE ELECTRIC SCOOTER
EVOLV STRIDE ELECTRIC SCOOTER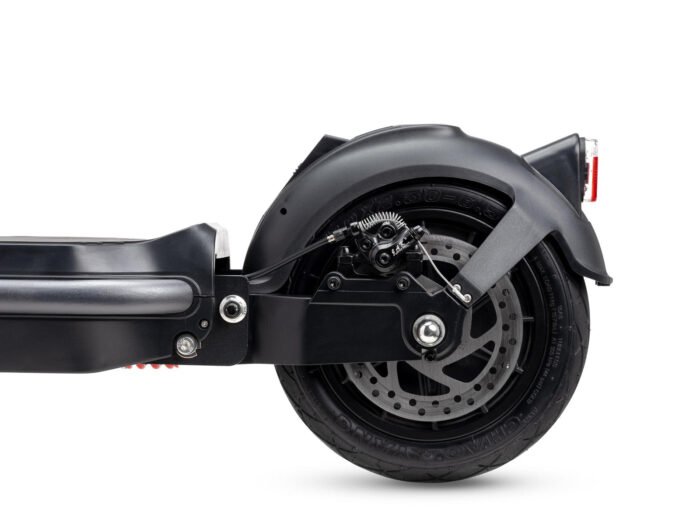 Introducing the STRIDE, Cruise smoothly over bumps with full suspension. The deck-integrated rear suspension works in tandem with the dual front shocks to absorb all the vibrations on your ride. Fold it up and pack it away for your weekend getaway.
LED headlight and taillight to ensure full front and rear visibility for you and everyone else. Positioned high off the ground, the headlight sweeps the road in white light, while keeping you visible to traffic and pedestrians. Stay in sync with your Stride through the app. Check your power status, speed, and range. Change your speed mode and control your lights with one touch. Run a quick diagnosis on your vehicle with the fault scan to ensure everything is in tip-top shape.
Charge Time 5 – 7 hrs
Top Speed 35 km/h (Check local laws before use) 22 mph
Range 55 – 65 km / 34 – 40 mi. (Under Ideal Conditions)
Battery 48V 15.6Ah
Powertrain 500W Nominal / 900W Peak Power
Weight 23 kg / 50.7 lbs
Max Load 120 kg (265 lbs)
Foldable Size 121 x 20 x 54 cm 48 x 8 x 21 inches
Suspension Front and Rear Shocks
Tire Size 10 inch Honeycomb Solid Tires
Brakes Front Drum Brake, Rear Disc Brake
Color Black, Silver and Grey Combination
POWER
500W Nominal / 900W Peak Power

TIRES
10 inch Honeycomb Solid Tires
Test Ride EVOLV STRIDE ELECTRIC SCOOTER Before You Buy
BOOK A NO-OBLIGATION TEST DRIVE TODAY. LET'S FIND THE RIGHT ELECTRIC SCOOTER FOR YOU
EVOLV STRIDE ELECTRIC SCOOTER WARRANTY

PARTS
1 Year Limited Warranty On Parts, Controller, Display, Throttle, Brakes etc ...

BATTERY
6 Months Limited Warranty On Battery, 6 Months On Branded Battery
R\E
3 Days Easy Return And Exchange Policy. Terms & Conditions*
EVOLV STRIDE ELECTRIC SCOOTER REPAIR
TOP-NOTCH WORK • HIGHEST QUALITY PARTS • FAIR PRICES
EVOLV STRIDE ELECTRIC SCOOTER