X11+ Electric Scooter 60V 50MPH 6000W
X11+ Electric Scooter 60V 50MPH 6000W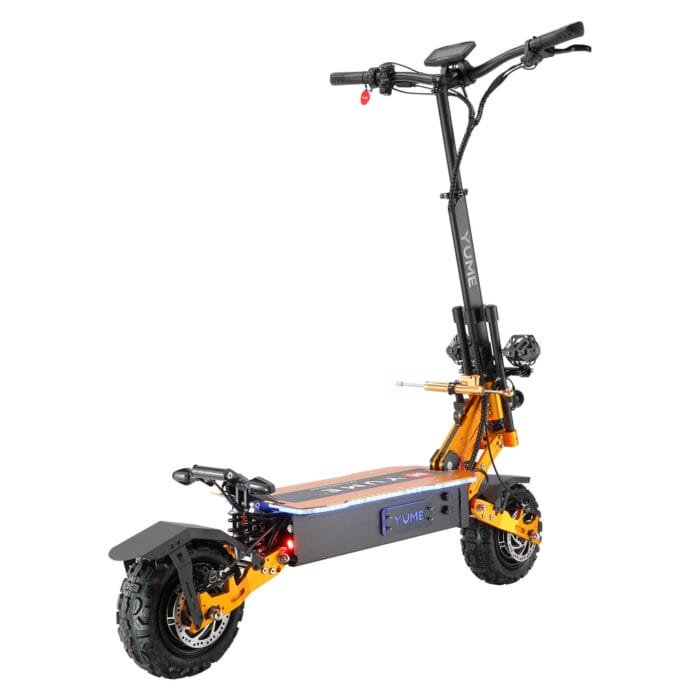 2023 Next Generation YUME X11+. The all-new X11 performance is controlled via Super 12 mosfet 45A sine wave controllers and is powered by a 60V 30Ah battery using original Samsung 50e 21700 cells. Both thumb push or trigger pull (quick swap) throttles are included with the new X11 as part of the standard package, giving riders unparalleled flexibility and catering to different riding styles and preferences. The New X11 has also been upgraded with an excellent large display, which can be found on all of our latest generation YUME scooters. The new display console comes complete with app connectivity and NFC capabilities.
Motors: 6000-watt motor with hall sensor
Max Speed: 60V Up to 50MPH (depending on rider's weight, state of charge, road conditions, etc.)
Battery: 60V 30Ah
Range: 60 Miles
NFC: 2 NFC Fast response Near Field Communication cards
APP: IOS/ANDROID YUME customize
Tires: 11″ Off-road Tubeless Tires
Brakes: Front and Rear Hydraulic disc brake
Front Suspension: New enclosed shock absorption
Rear Suspension: 2*125mm length spring suspension
Lights: Front light + Brake light + turn signal + Horn
IP Rating: IP 54
Weight: 110lbs/48KG(with seat add 2kg)
Charger: Standard 2*2A chargers(Dual charging port in the scooter)
Maximum load: 330lbs/150KG
POWER
6000-watt motor with hall sensor

TIRES
11" Off-road Tubeless Tires
Test Ride X11+ Electric Scooter 60V 50MPH 6000W Before You Buy
BOOK A NO-OBLIGATION TEST DRIVE TODAY. LET'S FIND THE RIGHT ELECTRIC SCOOTER FOR YOU
X11+ Electric Scooter 60V 50MPH 6000W WARRANTY

PARTS
1 Year Limited Warranty On Parts, Controller, Display, Throttle, Brakes etc ...

BATTERY
6 Months Limited Warranty On Battery, 6 Months On Branded Battery
R\E
3 Days Easy Return And Exchange Policy. Terms & Conditions*
X11+ Electric Scooter 60V 50MPH 6000W REPAIR
TOP-NOTCH WORK • HIGHEST QUALITY PARTS • FAIR PRICES
X11+ Electric Scooter 60V 50MPH 6000W