Miniwalker Tiger 10 Pro Electric Scooter
Miniwalker Tiger 10 Pro Electric Scooter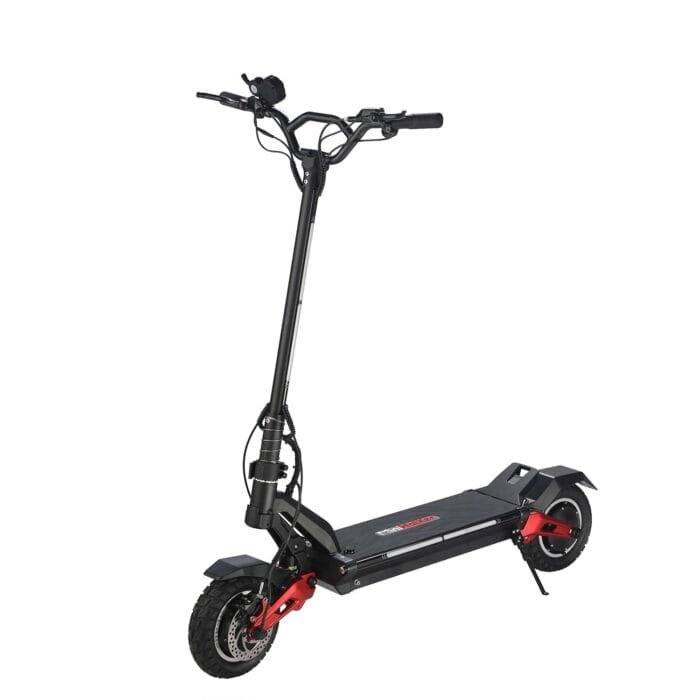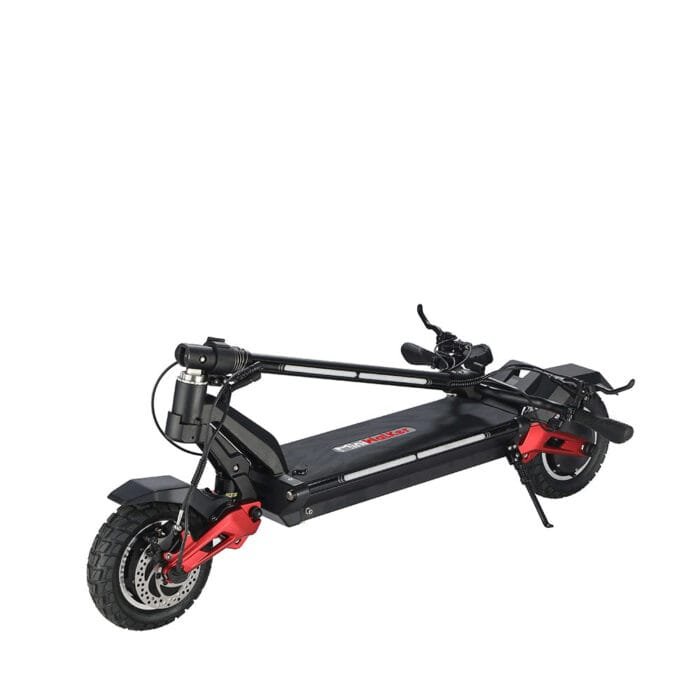 Introducing the new MiniWalker Tiger E-Scooter! With 10" pneumatic tyres, dual 1200W motors, 60V 24Ah battery it has a great range of 60-70km. The MiniWalker Tiger takes a load weight of 120kg and is easy fold – this E-Scooter is built to last!
The controllable lights on the stem are the same shape as the Dualtron scooters. The coil suspension and c-type swing arms are just like the Zero 10X, Apollo Pro, and Turbowheel Lightning. The display is the same as the Evolv scooters.
Motor 2*1200W dual motors
Battery 60V 24AH
Switch On Long press the power button
Body Frame Ultra strong aluminum alloy 6061
Tire 10*2.7inch(Vacuum tire) 10*3.0 inch(Inflatable tire)
Display screen Smart LCD
Max Load 120KGS
Driving gear 3
Max Speed Dual motor mode: 60-75KM
Single motor mode: 45-50KM
Gradeability 30 uphill
Range 60-75KM
Charging Time 6-10Hours
Light front deck light +rear deck light+brake light
Horn Yes
Suspension Front & rear HIGH performance suspension
Brake Front &Rear hydraulic brake+Electric brake
Fold safety folding system
Pole length Adjustable
Pedal Anti-slip matte stickers
N.W./G.W. 30KGS/33kgs
Product Size 1300×600×1215mm(L×W×H)
Packing Size 134×35×55cm
Loading rate 160/20GP; 330/40GP; 390/40HQ
POWER
Dual 1200W motors: 2400W

TIRES
10-Inch Pneumatic tyres
Test Ride Miniwalker Tiger 10 Pro Electric Scooter Before You Buy
BOOK A NO-OBLIGATION TEST DRIVE TODAY. LET'S FIND THE RIGHT ELECTRIC SCOOTER FOR YOU
Miniwalker Tiger 10 Pro Electric Scooter WARRANTY

PARTS
1 Year Limited Warranty On Parts, Controller, Display, Throttle, Brakes etc ...

BATTERY
6 Months Limited Warranty On Battery, 6 Months On Branded Battery
R\E
3 Days Easy Return And Exchange Policy. Terms & Conditions*
Miniwalker Tiger 10 Pro Electric Scooter REPAIR
TOP-NOTCH WORK • HIGHEST QUALITY PARTS • FAIR PRICES
Miniwalker Tiger 10 Pro Electric Scooter