BLADE GT II Electric Scooter
BLADE GT II Electric Scooter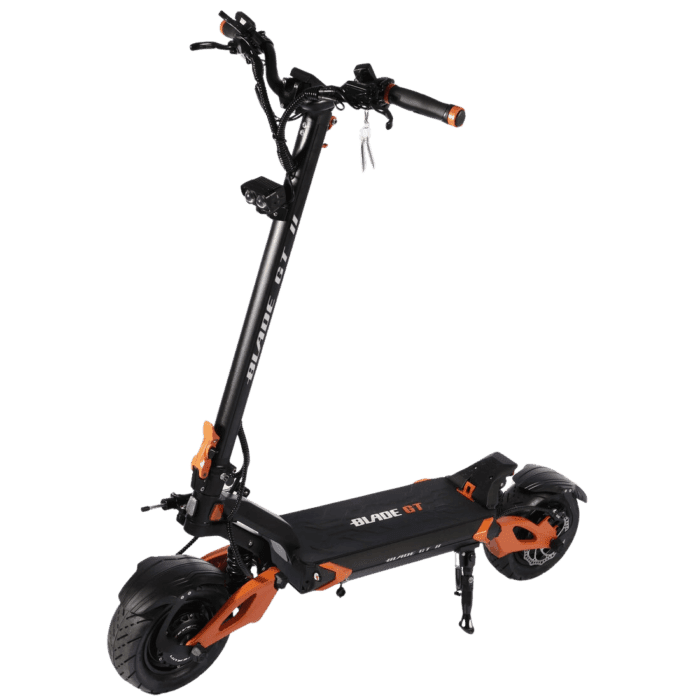 Teverun Blade GT+ II has significantly improved from its predecessor. You will immediately see a significant difference. The scooter has a fixed handlebar, a different folding mechanism with a hook for easier transport and a different tread. Also new is the built-in TFT display located at the end of the control bar and the front light, which is located near the handlebars and not above the wheel.
The Blade GT+ II is a no-brainer. It has two powerful electric motors with a nominal power of 2x 1,500 W. However, it can pull out up to 5,000 W at its peak. Thanks to them, you can squeeze a speed of up to 85 km/h out of the scooter. This variant is equipped with fully adjustable hydraulic shock absorbers, so it is perfectly suited to all types of surfaces. And the footwear corresponds to that. The wheels have special 11″ tires with an inner surface treatment against defects.
Inside the deck is a branded 60V Samsung battery with a capacity of 30 Ah. With the Blade GT+ II, you can also go on longer trips. It has a range of up to 120 km. The battery is equipped with a Smart BMS, which ensures connection with the Teverun application on your smartphone. You can find it on the AppStore and GooglePlay. In the application, you can set individual driving modes or monitor the charge status of individual battery cells.
High-quality brakes are the basic building block of such a powerful scooter – here you will find hydraulic disc brakes. At higher speeds, some scooters can experience so-called wobbling, i.e. vibration of the handlebars, which can be quite unfortunate for the rider. However, Teverun doesn't really get along with anything like that and has already equipped you with a steering damper as standard, which eliminates this. Another security feature is the NFC lock, which you can use to lock the scooter so that it cannot even be started.
Manufacturer Teverun
Wheel size 90/65-6.5 11″ tubeless tires
Engine type Brushless
Performance 2x1500W
Display built-in TFT
Battery type Li-ion 30Ah Samsung 60V
Brakes hydraulic disc
Max. speed 25 km/h (up to 85 km/h after unlocking)
Arrival up to 120km*
Carrying capacity up to 120 kg
Damping Fully adjustable hydraulic shock absorbers
Dimensions of the unfolded scooter 1300x1280x650 mm
Dimensions of a folded scooter 1300x480x260 mm
TOP SPEED
25 km/h (up to 85 km/h after unlocking)

TIRES
90/65-6.5 11″ tubeless tires
Test Ride BLADE GT II Electric Scooter Before You Buy
BOOK A NO-OBLIGATION TEST DRIVE TODAY. LET'S FIND THE RIGHT ELECTRIC SCOOTER FOR YOU
BLADE GT II Electric Scooter WARRANTY

PARTS
1 Year Limited Warranty On Parts, Controller, Display, Throttle, Brakes etc ...

BATTERY
6 Months Limited Warranty On Battery, 6 Months On Branded Battery
R\E
3 Days Easy Return And Exchange Policy. Terms & Conditions*
BLADE GT II Electric Scooter REPAIR
TOP-NOTCH WORK • HIGHEST QUALITY PARTS • FAIR PRICES
BLADE GT II Electric Scooter