BLADE GT+ Electric Scooter
BLADE GT+ Electric Scooter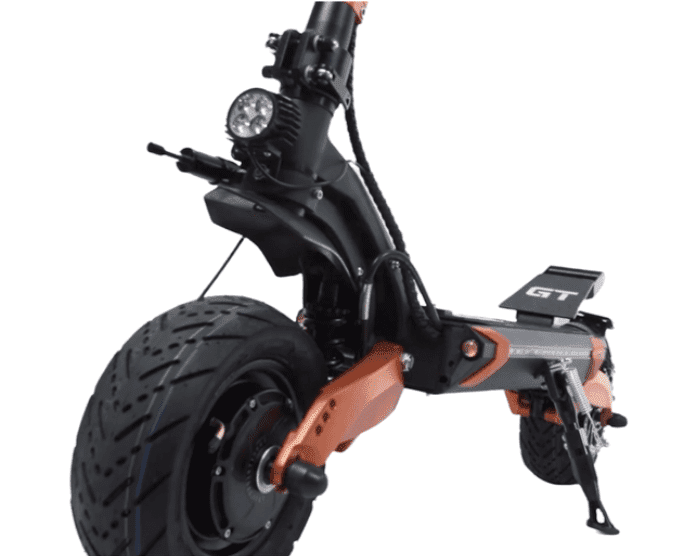 Check out the new BLADE GT+ Electric Scooter! The New 60 Volt Blade GT+ is an upgraded version of the off-road electric scooter that started it all. The Dual 40 Amp smart motor controllers with double 1500W motors, allow the E-Scooter to give you up to 80 miles of range and 85km/h maximum speed.
BLADE GT+ features double adjustable hydraulic suspension shock absorbers which do a great job at reducing road impact. With the double adjustable hydraulic suspension system plus puncture free 11 inch tubeless tires, you've got a scooter with suspension that's fast, powerful, and safe – all at the same time!
The BLADE GT+ now has a rubber slip-resistant deck, integrated LED kicktail, arm LEDs, and side panel LEDs and will have you cruising in style! NFC card electronic lock, enjoy quicker fare forth.
Specs
display: 3.5 inch TFT screen
Brake: full hydraulic Disc brake
electronic lock: NFC card
suspension: double adjustable hydraulic suspension
Controller Current Limited: Sine Wave 35A-40A X2
The material: aluminum alloy
Development size (mm): L1300/H1280/W605
Folding size (mm): L1300/H480/W260
Packing size (mm): L1360/H585/W270
Net weight: 35kg
Gross weight: 45kg

TIRES
90/65-6 11inch tubeless tire
Test Ride BLADE GT+ Electric Scooter Before You Buy
BOOK A NO-OBLIGATION TEST DRIVE TODAY. LET'S FIND THE RIGHT ELECTRIC SCOOTER FOR YOU
BLADE GT+ Electric Scooter WARRANTY

PARTS
1 Year Limited Warranty On Parts, Controller, Display, Throttle, Brakes etc ...

BATTERY
6 Months Limited Warranty On Battery, 6 Months On Branded Battery
R\E
3 Days Easy Return And Exchange Policy. Terms & Conditions*
BLADE GT+ Electric Scooter REPAIR
TOP-NOTCH WORK • HIGHEST QUALITY PARTS • FAIR PRICES
BLADE GT+ Electric Scooter