Arvala M10 48v15.6ah Disc Brake Electric Scooter
Arvala M10 48v15.6ah Disc Brake Electric Scooter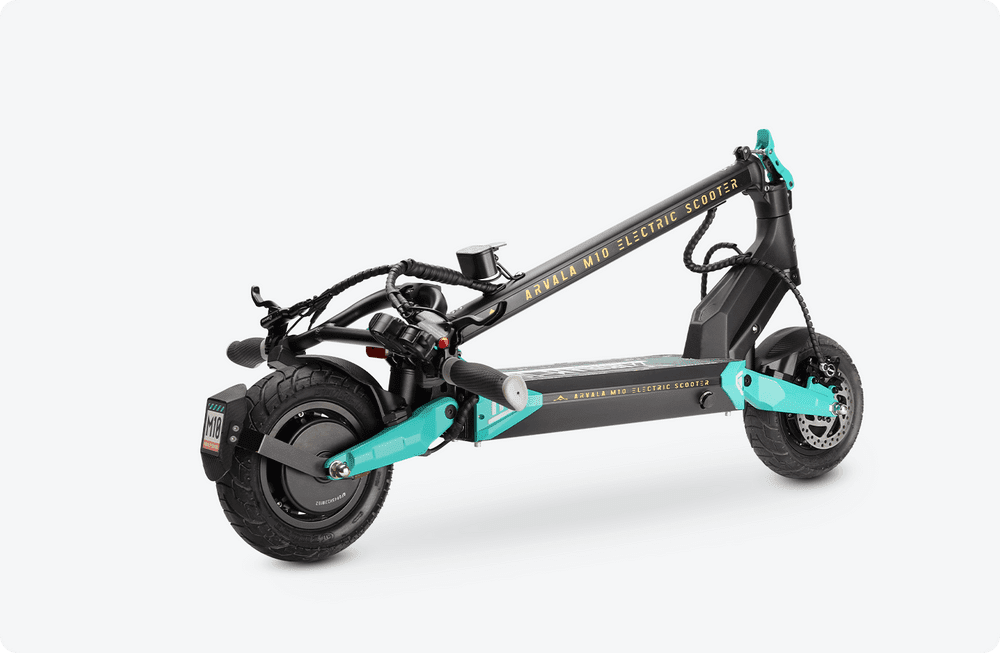 The M10 features a convenient display that provides real-time information about your speed, distance, and battery life. Thanks to the NFC key lock, any worry you may have of keeping your scooter outside will be alleviated. The M10 motor is powered by 2x25A speed controllers. In turn, this high-performance scooter is capable of reaching speeds of up to 85 kph.
E-scooters have caught up with motorcycles as the coolest two-wheelers. The M10's stylish handlebars and sleek rear fender make it the ultimate for fashionable rides. With its front and rear damper suspension, you can enjoy a comfortable journey, even on rough terrain.
ARVALA M10 48V15.6AH
TIRE SIZE 9 INCH ROAD TIRES
MOTOR RATED POWER 600WX2
TOP SPEED 34MPH/55KPH
BATTERY TYPE 48V15.6AH
TRAVEL DISTANCE 50KM
CHARGER RATED POWER 54.6V 2A
CHARGING TIME 7.8H
MATERIAL ALUMINIUM ALLOY/STEEL
LIGHT FUNCTION HEADLIGHT+TURN SIGNAL+STEM LIGHT+BODY LIGHT+BRAKE LIGHT
BRAKE DISC BRAKES
DISPLAY MINIMOTORS EY3
NFC YES
SUSPENSION SPRING DAMPERS
CONTROLLER BOX 22A X2
MAX LOAD 265 LBS
WHAT'S IN THE BOX SCOOTER, CHARGER, MANUAL, TOOL KIT
Test Ride Arvala M10 48v15.6ah Disc Brake Electric Scooter Before You Buy
BOOK A NO-OBLIGATION TEST DRIVE TODAY. LET'S FIND THE RIGHT ELECTRIC SCOOTER FOR YOU
Arvala M10 48v15.6ah Disc Brake Electric Scooter WARRANTY

PARTS
1 Year Limited Warranty On Parts, Controller, Display, Throttle, Brakes etc ...

BATTERY
6 Months Limited Warranty On Battery, 6 Months On Branded Battery
R\E
3 Days Easy Return And Exchange Policy. Terms & Conditions*
Arvala M10 48v15.6ah Disc Brake Electric Scooter REPAIR
TOP-NOTCH WORK • HIGHEST QUALITY PARTS • FAIR PRICES
Arvala M10 48v15.6ah Disc Brake Electric Scooter