Yume Hawk Pro Electric Scooter
Yume Hawk Pro Electric Scooter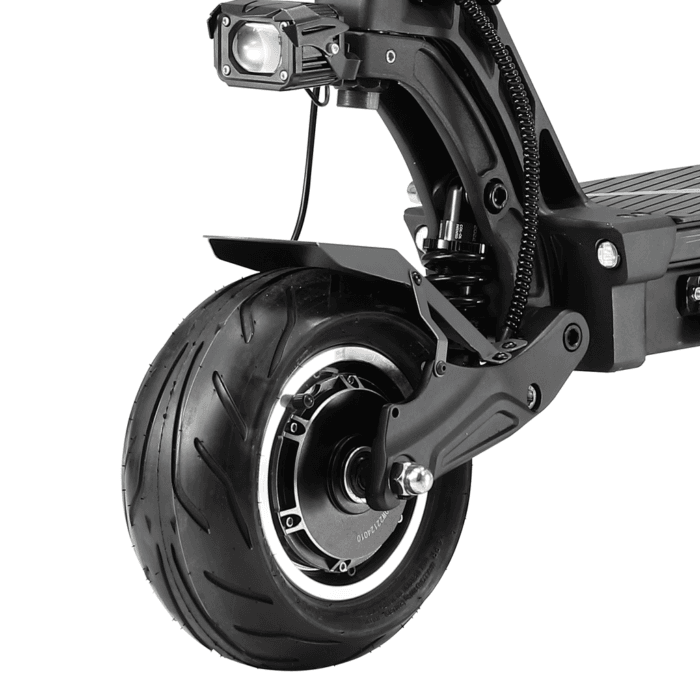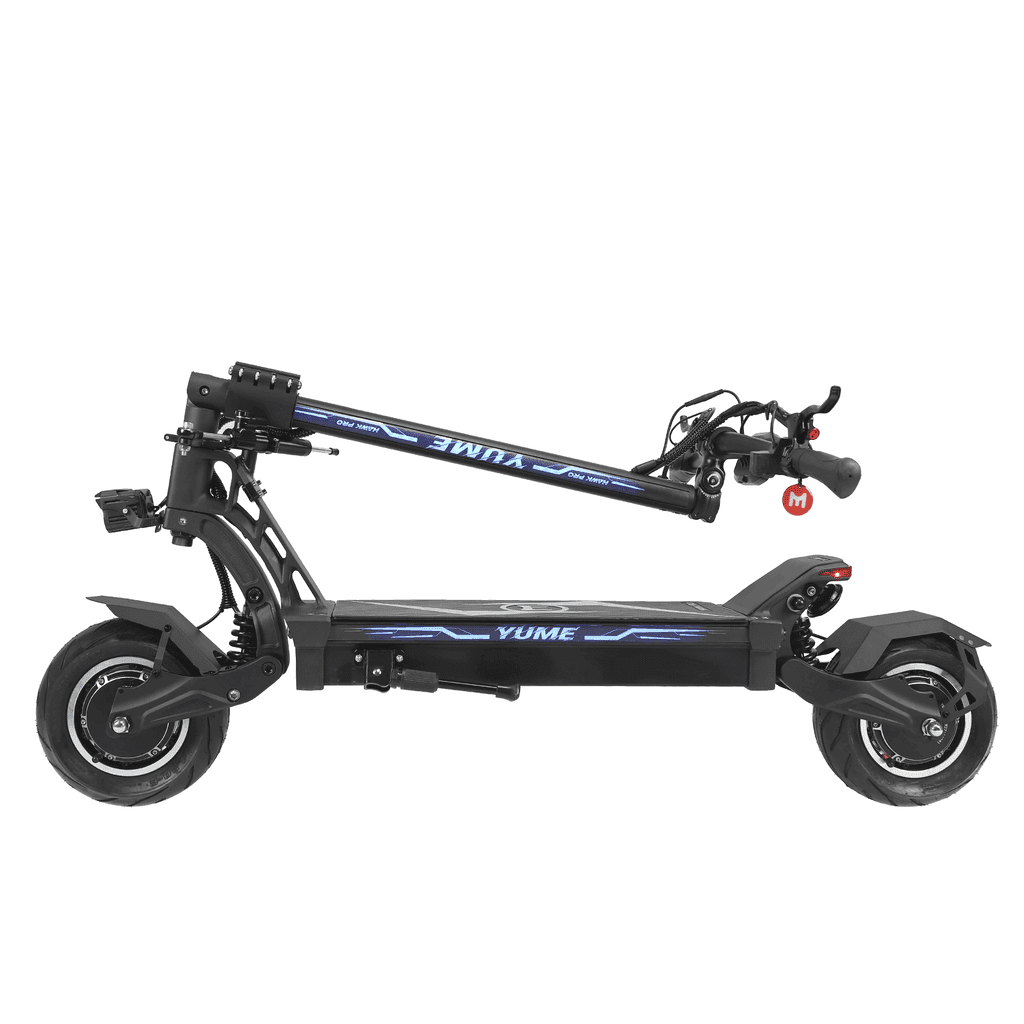 For those who demand more power and speed, YUME is pleased to introduce the incredible Hawk Pro. This pro version of the YUME Hawk comes with the same styling and accessories but features two powerful 3000W motors. This comes paired with two new custom designed compact sine wave controllers (Super 6 mosfet / 35A) and is powered by a 60V 30Ah battery using Samsung 50e 21700 cells. The 10″ tubed street tires on the Hawk Pro are also wider (4.5″wide) giving enhanced grip to match the increased performance.
Motors: 3000-watt dual motors with hall sensor Sine-Wave 35A Max Current Controller
Max Speed*: 60V Up to 50MPH
Battery: 60V 30AH
Max Range*: 60 Miles
Display Features: Riding mode setting ability, Smart display with Over heat protection built in IP65
NFC: 2 NFC Fast response Near Field Communication cards
APP: IOS/ANDROID YUME customize
Tires: 10×4.5″ Tubeless All-terrain Tires
Brakes: Front and Rear Brand ZOOM Hydraulic disc brake with 160mm rotor and cooling fin pad
Front & Rear Suspension: Front and Rear: Adjustable Hydraulic Suspension
Lights: Aluminum Front LED light + Brake light + 2turn signal + Horn
LED Side Lights: Deck and Stem colorful lights with remote control
IP Rating: IP 54 for the whole scooter
Weight: 88lbs/40KG
Maximum load: 280lbs/126KG
Charger: Standard 2*2A chargers
Overall size: 1390*240*1380mm
Size when folded: 1390*240*600mm
POWER
3000-watt dual motors with hall sensor Sine-Wave 35A Max Current Controller

TIRES
10x4.5" Tubeless All-terrain Tires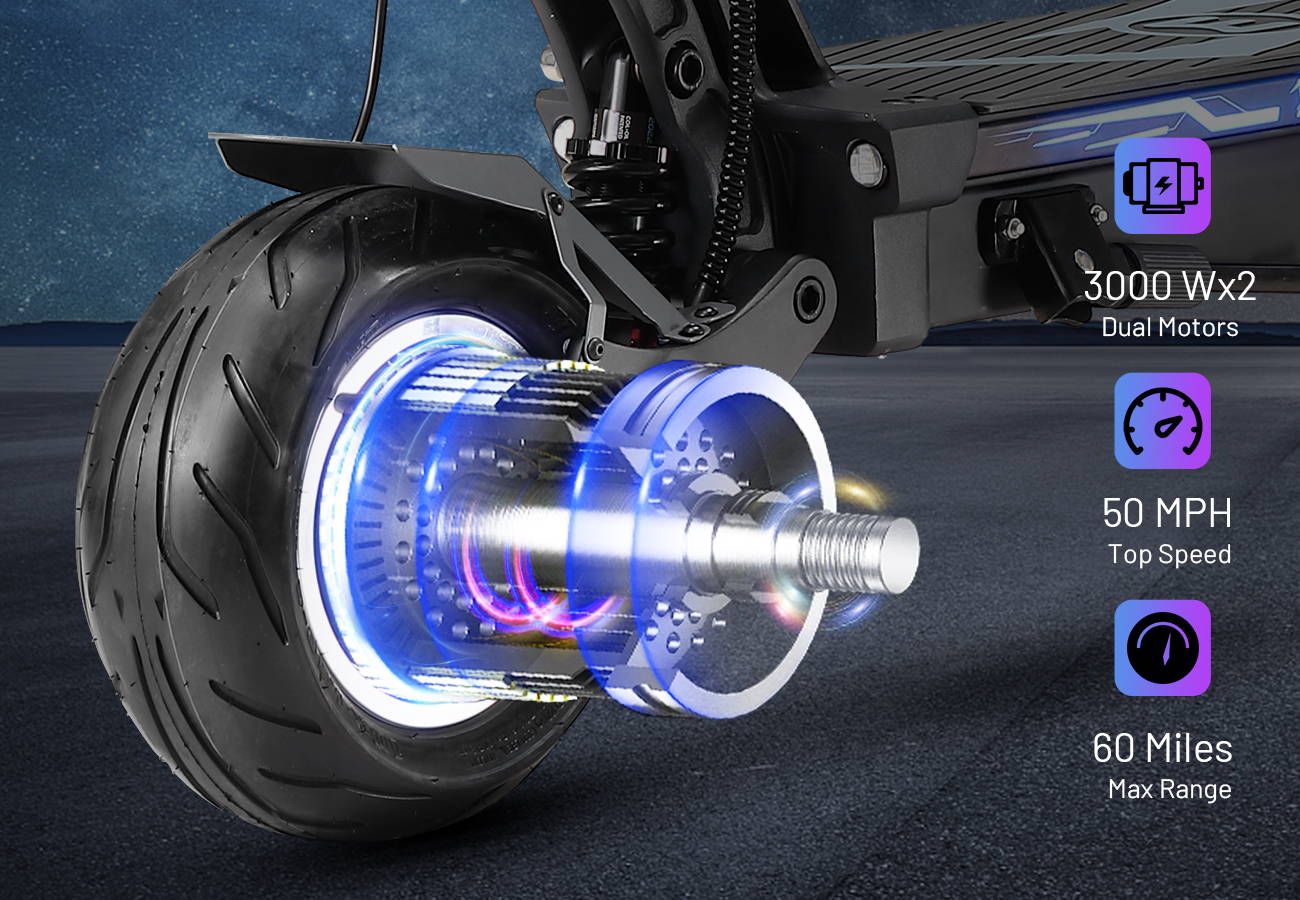 Dual Motors for Powerful Performance
Front and rear powerful dual motors are a key feature of the Hawk pro. The Hawk Pro is designed with two powerful 3000W motors with hall sensors, for a total max power output of 6000W. A 35A (max current) custom designed controller delivers the power needed to climb steep hills and carry loads up to 280 lbs.
This amount of power is unprecedented in a scooter of this size category and offers unbelievable performance!
Custom Designed Sine Wave Controllers
Great power requires great control. The newly upgraded controller is custom designed to be much smaller than those in most other scooters in order to maximize space for a larger battery. Although much more compact, the new sine wave controller offers increased performance over previous versions. It comes equipped with super 6-pipe heat dissipation, which provides twice as much heat dissipation performance over the old controller. Power delivery has also been enhanced with a much smoother acceleration curve for better control and ride performance.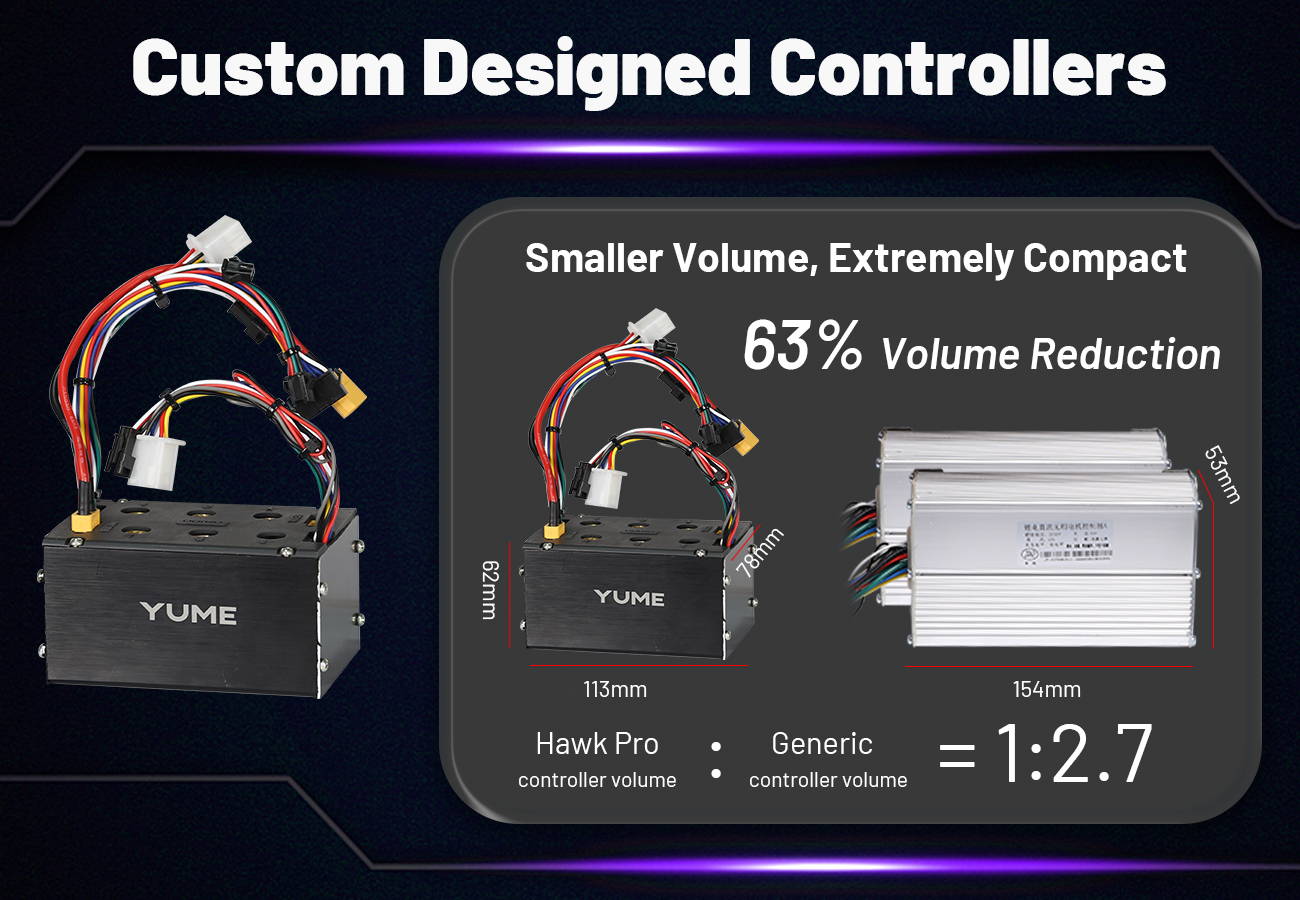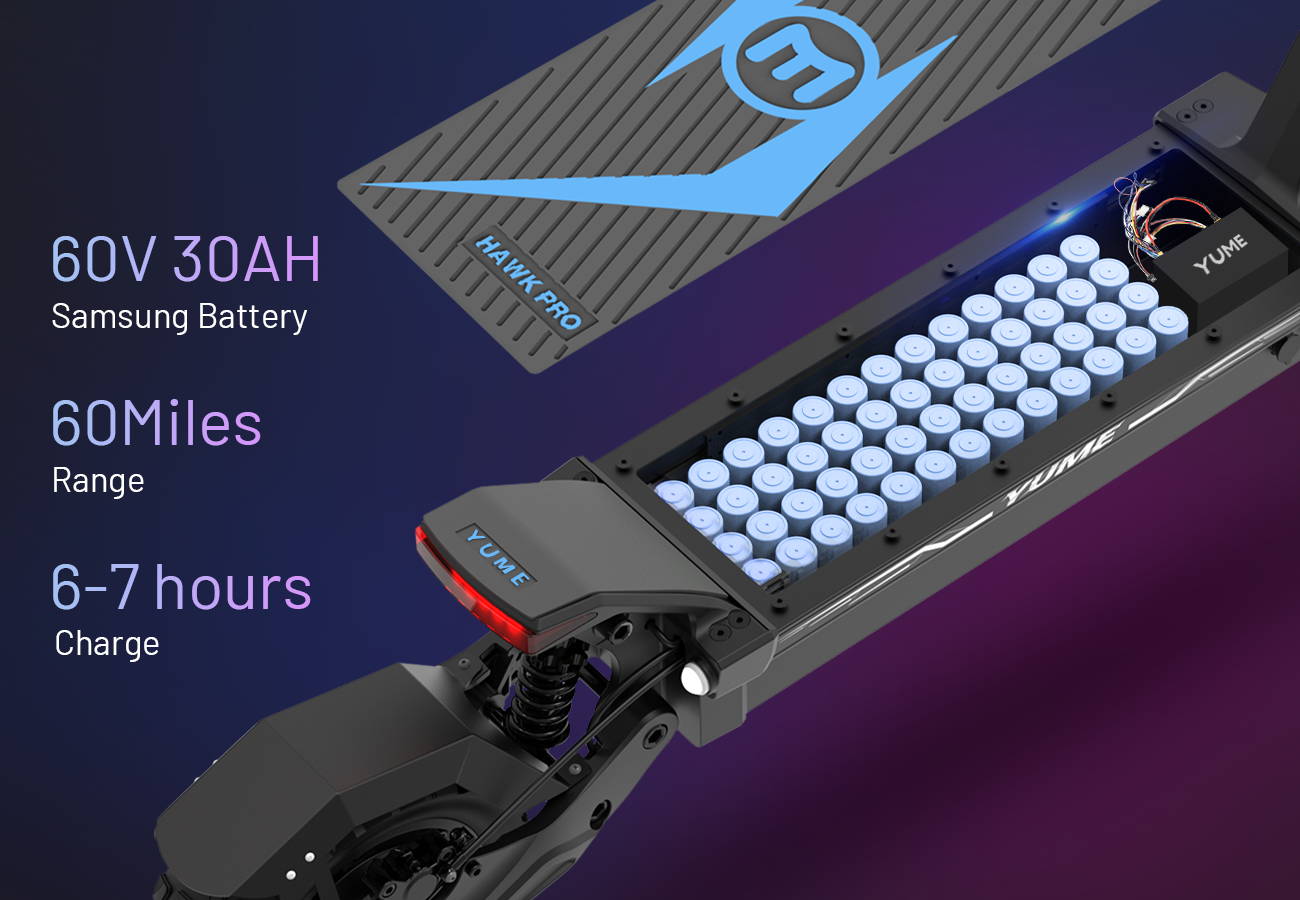 Samsung Lithium Battery Pack
Equipped with a 60V 30Ah Samsung 50e 21700 battery, the YUME Hawk Pro offers better battery life and range compared to common batteries on the market. Up to 55-60 miles on a single charge. Samsung branded batteries offer unparalleled safety and performance and are perfectly suited for high performance electric scooters. Charging time is 6-7 hours for a complete charge from empty.
Large Color LCD Display with NFC Lock/Unlock
A real-time view of the battery and riding information is shown on the large display. The LCD backlight is clearly visible at night or in the sun. IP54 waterproof and dustproof construction assurees reliable operation in any weather condition. The display on the YUME Hawk Pro is also designed with an NFC lock that makes locking and unlocking the scooter a breeze. Just tap and go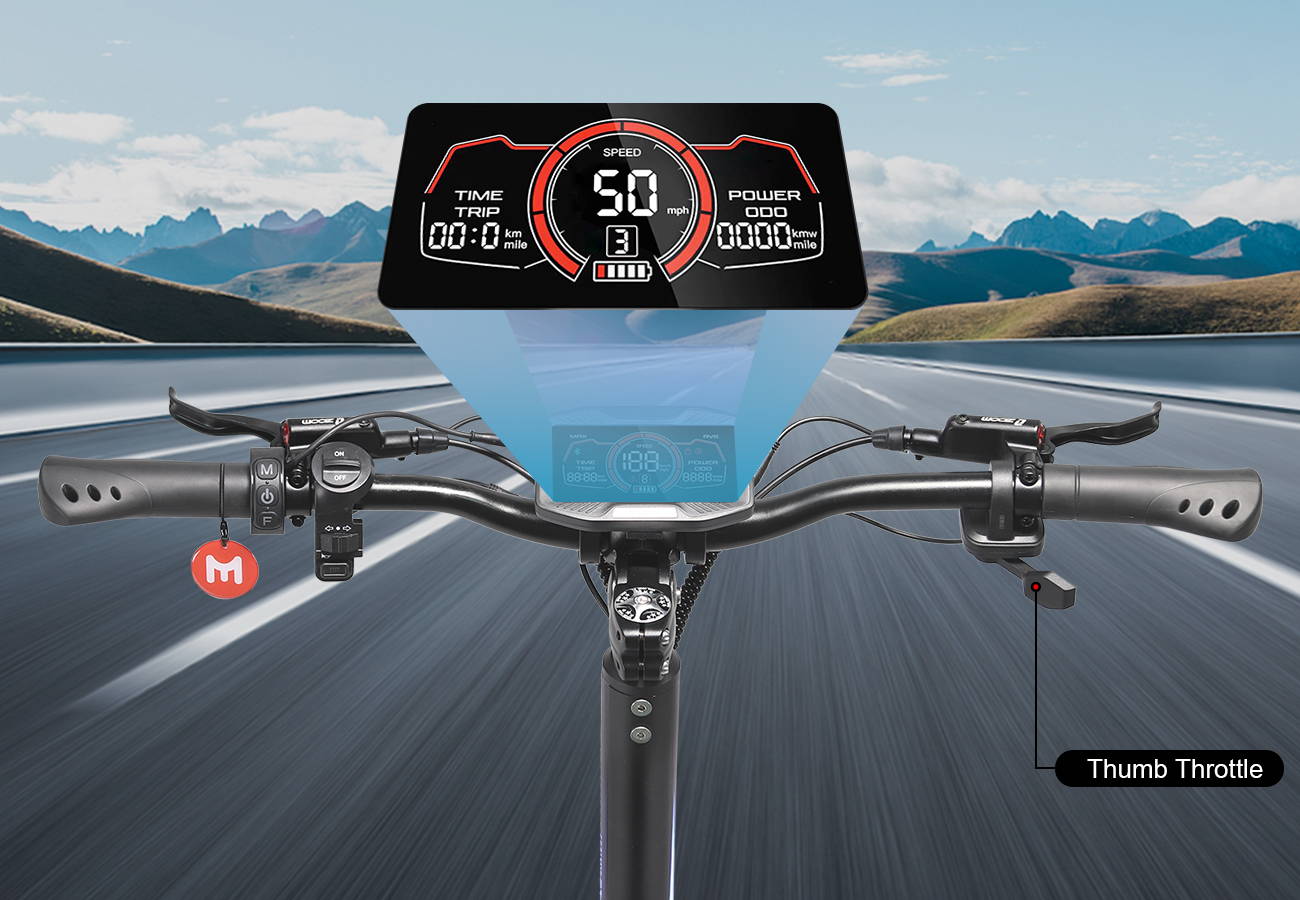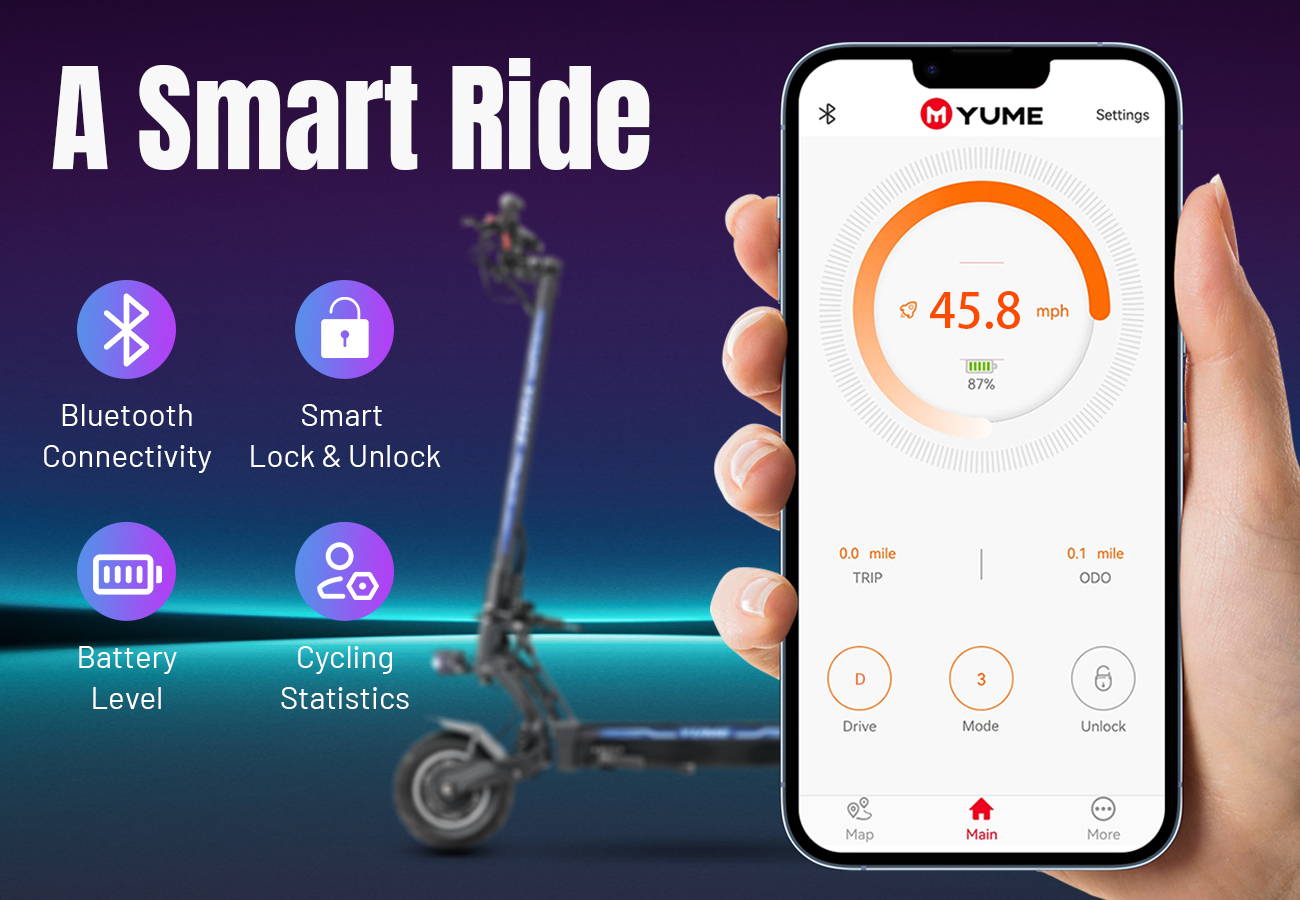 Connect the Yume Ride app for more functions, such as locking the scooter, checking ride status and battery life. Experience seamless connectivity and take your ride to the next level
An improved tougher compound and aggressive tread pattern work together to increase tire longevity. The wider tires and tread pattern enhances traction in wet conditions and reduces the risk of hydroplaning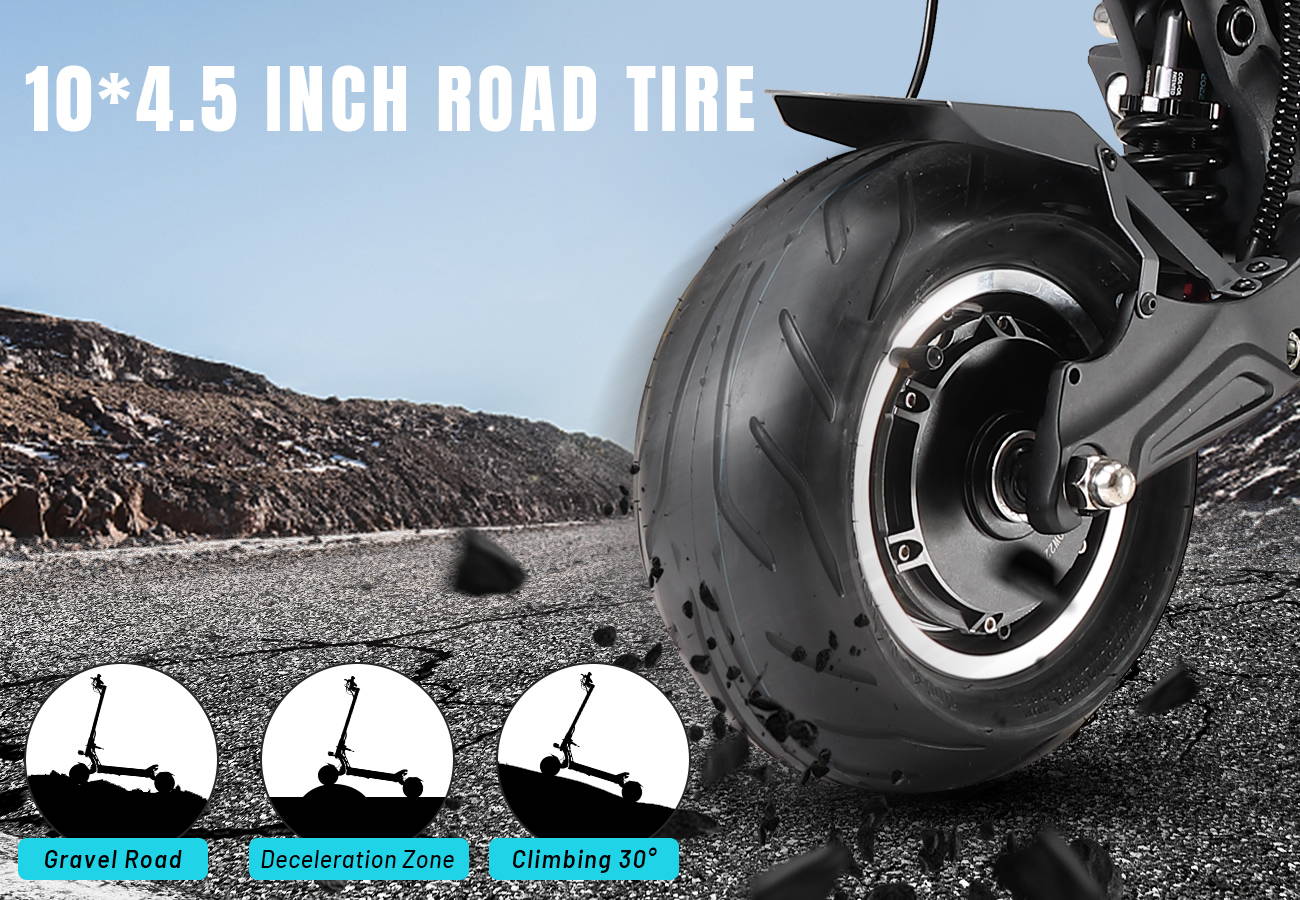 Adjustable Hydraulic Suspension
A premium set of adjustable hydraulic shock absorbers are used in the Hawk Pro's suspension system. These shock absorbers allow you to adjust rebound at a turn of a knob. Customize your ride performance and conquer any terrain.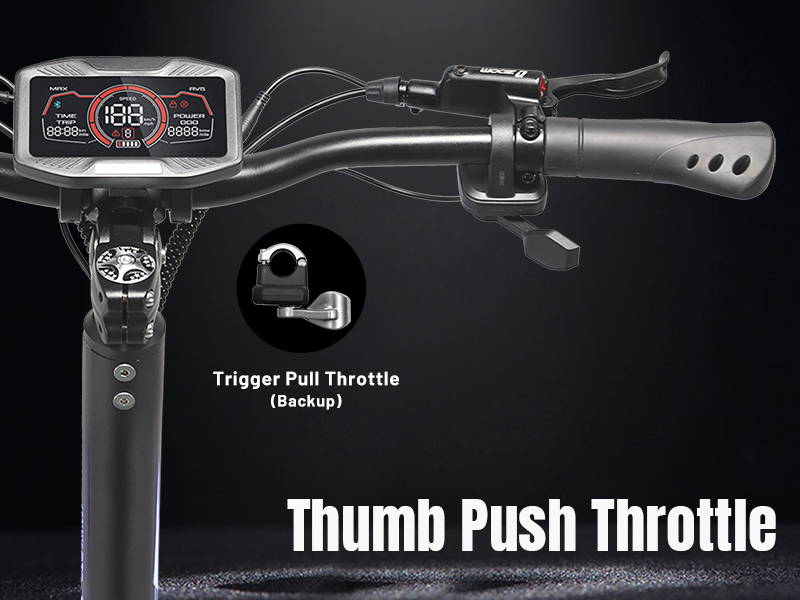 Thumb Push Or Trigger Pull Throttle Options
The YUME Hawk Pro comes with both thumb push or trigger pull options! These are easily interchangeable via a quick release plug. Ride the way you like!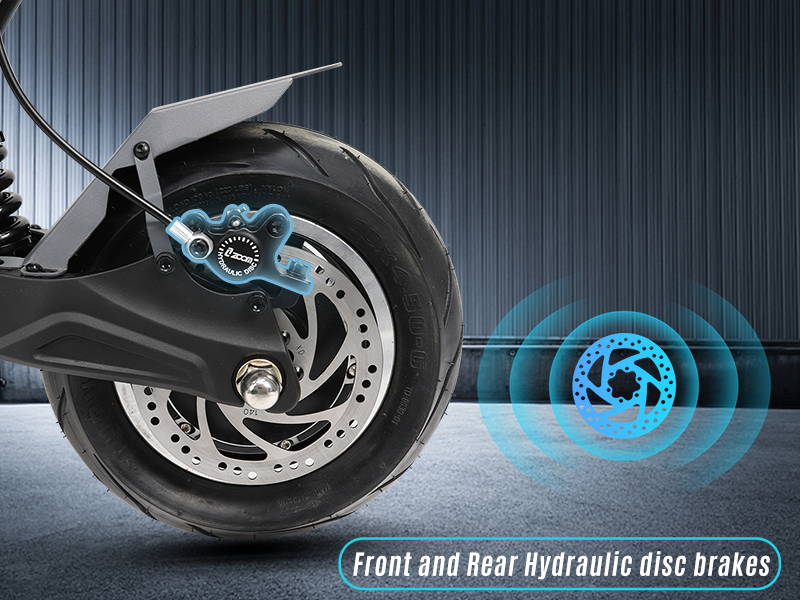 ZOOM Hydraulic Disc Brakes
Front and Rear ZOOM hydraulic disc brakes with 160mm rotors deliver high-performance braking with more stopping power for a safer ride.
Silicone pads replace standard grip tape on the Hawk Pro. These increase rider comfort by minimizing vibrations while maintaining a secure grip for a more comfortable ride.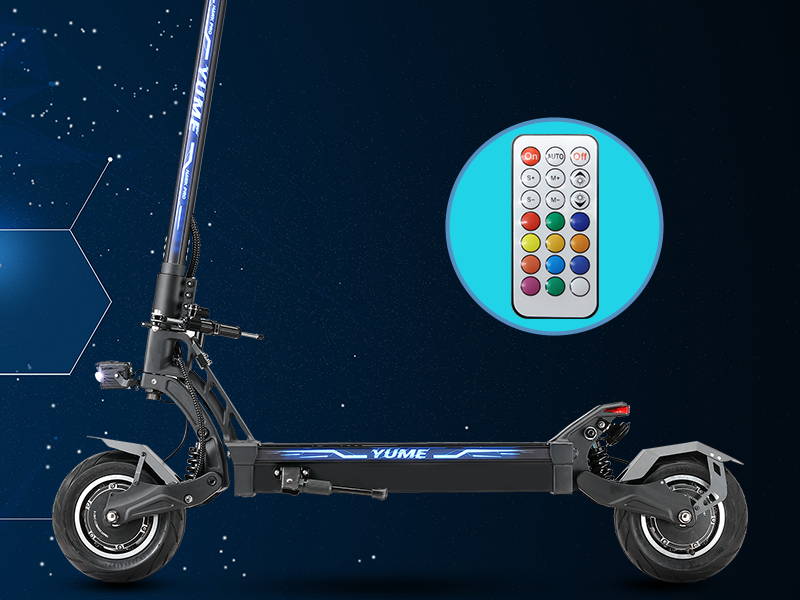 The Hawk Pro has 2 aluminum front led lights and 2 brake lights to ensure you remain visible from all angles. The front lights, the rear turn signals and the brake lights ensure safe riding night or day.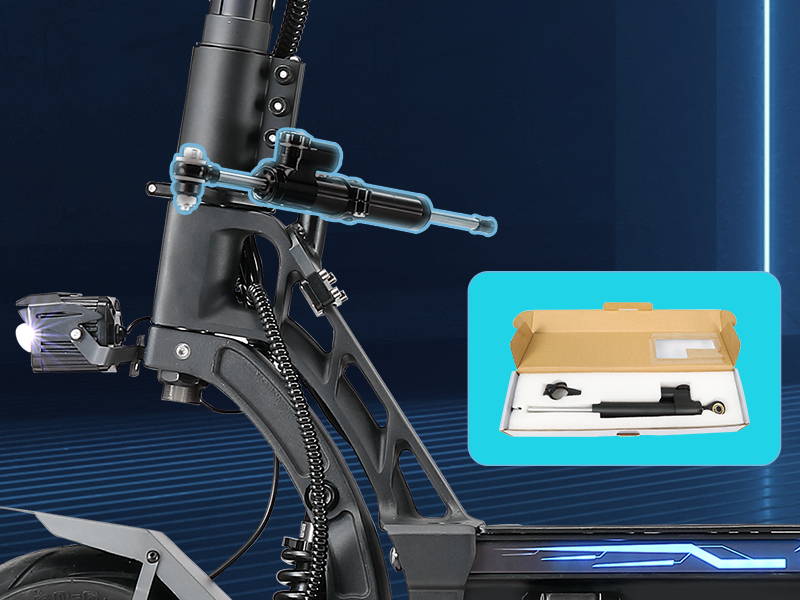 Steering Dampener Stabilizer
A steering dampener is included as standard. The dampener increases ride stability at speed and is an important inclusion for a high performance scooter such as the YUME Hawk Pro.
Test Ride Yume Hawk Pro Electric Scooter Before You Buy
BOOK A NO-OBLIGATION TEST DRIVE TODAY. LET'S FIND THE RIGHT ELECTRIC SCOOTER FOR YOU
Yume Hawk Pro Electric Scooter WARRANTY

PARTS
1 Year Limited Warranty On Parts, Controller, Display, Throttle, Brakes etc ...

BATTERY
6 Months Limited Warranty On Battery, 6 Months On Branded Battery
R\E
3 Days Easy Return And Exchange Policy. Terms & Conditions*
Yume Hawk Pro Electric Scooter REPAIR
TOP-NOTCH WORK • HIGHEST QUALITY PARTS • FAIR PRICES
Yume Hawk Pro Electric Scooter