Weped Fold Electric Scooter
Weped Fold Electric Scooter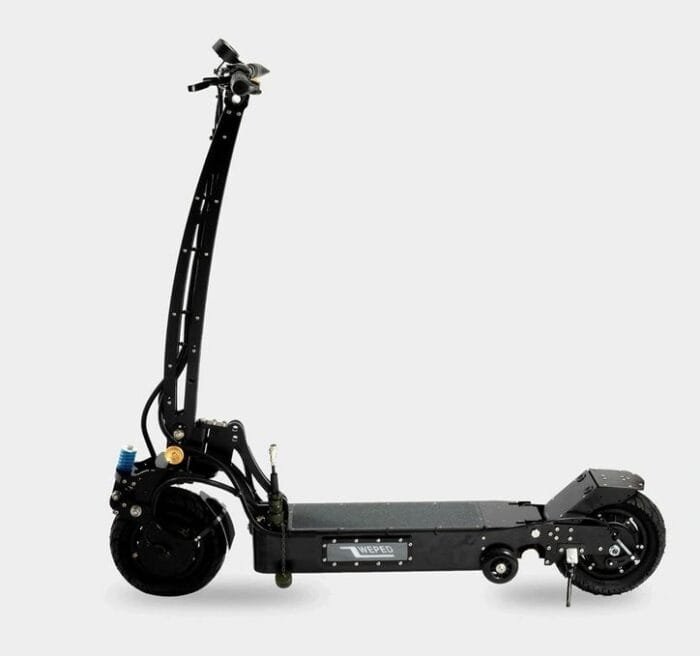 The WEPED Fold electric scooter is the latest in WEPED's new range of models. Engage the dual motors and climb hills with ease. Foldable and portable with trolley wheels attached to the deck for easy transportation.
Battery 60V 30AH
Cells Samsung SDI 21700 50E
Motors 3,600 watts peak power dual hub
Max speed 70 kph 
Max Range 80km approx. rider test at 30km/h
Suspension Front and Rear shock (coil)
Front and Rear Drum brakes / Electronic brake available
Tires 10″x 3″ tube tires
Charge time 15 hours
Dimensions L1225mm x W172 x H1116mm
Warranty person weight limit 120kg
Scooter weight 33kg
Covered by manufacture warranty 6 months parts 1 year battery
10% deposit required. deposit will be deducted upon full payment
POWER
3,600 watts peak power dual hub

Test Ride Weped Fold Electric Scooter Before You Buy
BOOK A NO-OBLIGATION TEST DRIVE TODAY. LET'S FIND THE RIGHT ELECTRIC SCOOTER FOR YOU
Weped Fold Electric Scooter WARRANTY

PARTS
1 Year Limited Warranty On Parts, Controller, Display, Throttle, Brakes etc ...

BATTERY
6 Months Limited Warranty On Battery, 6 Months On Branded Battery
R\E
3 Days Easy Return And Exchange Policy. Terms & Conditions*
Weped Fold Electric Scooter REPAIR
TOP-NOTCH WORK • HIGHEST QUALITY PARTS • FAIR PRICES
Weped Fold Electric Scooter