DUALTRON CITY ELECTRIC SCOOTER
DUALTRON CITY ELECTRIC SCOOTER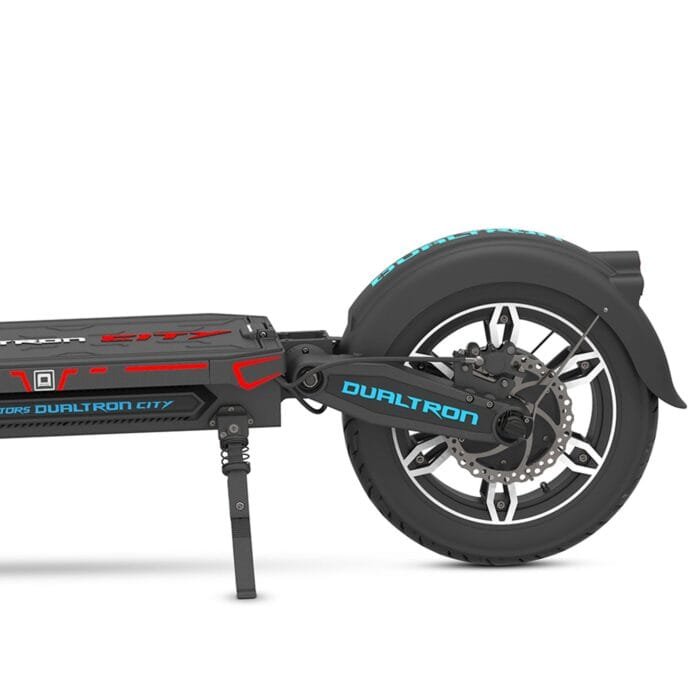 When it comes to tires, bigger is better with the new Dualtron City Electric Scooter! The Dualtron City features 15-inch tires capable of absorbing impact easier than the traditional 8-11 inch scooter tires. In addition to the larger tires, the City features a swappable battery pack to maximize range and minimize weight.
The City comes stock with full hydraulic brakes providing more than ample stopping power. Performance still packs a punch with 4,000 watts of power on a mid-size frame. The power of Dualtron, refined, check out the new Dualtron City! 
SPECS
Charge time: 14 hours with standard charger, 7

  

hours with 2 standard chargers, 3+ hours with the quick charger

Max Speed:  45+ mph (depending on rider weight, road conditions, state of charge, and ambient temperature)

Climbing Grade: 37% or 20 degrees depending on rider weight and state of charge

Braking System: Zoom Hydraulic Disk brakes with ABS standard and 160 mm disks

Lighting:, Stem lighting, Dual LED Headlight new integrated Tail Light with Brake Light, Side panel lights, and logo lights

Scooter Weight: 91 lbs

Product Material: Frame and Handle are aviation grade 6082-T6 aluminum alloy, the shaft is SCM440 steel, and plastic covers

Optional Parts:, Fast Charger, Light Mount
BATTERY
60 volt – 25 Ah – Swappable – LG 21700 cells
POWER
3,984W BLDC Dual Hub Motor

Test Ride DUALTRON CITY ELECTRIC SCOOTER Before You Buy
BOOK A NO-OBLIGATION TEST DRIVE TODAY. LET'S FIND THE RIGHT ELECTRIC SCOOTER FOR YOU
DUALTRON CITY ELECTRIC SCOOTER WARRANTY

PARTS
1 Year Limited Warranty On Parts, Controller, Display, Throttle, Brakes etc ...

BATTERY
6 Months Limited Warranty On Battery, 6 Months On Branded Battery
R\E
3 Days Easy Return And Exchange Policy. Terms & Conditions*
DUALTRON CITY ELECTRIC SCOOTER REPAIR
TOP-NOTCH WORK • HIGHEST QUALITY PARTS • FAIR PRICES
DUALTRON CITY ELECTRIC SCOOTER