ZERO 10X Electric Scooter
ZERO 10X Electric Scooter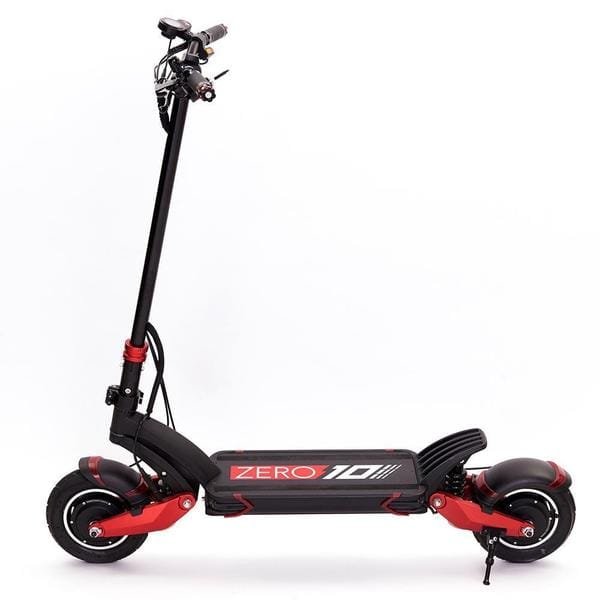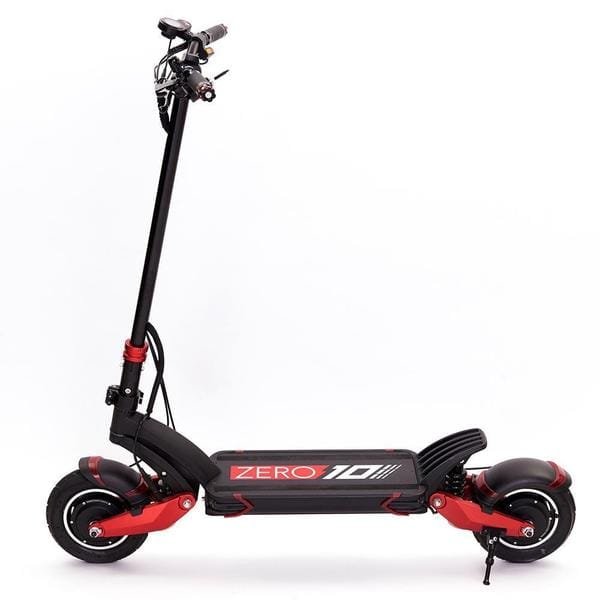 The ZERO 10X is a high performance dual motor drive, dual suspension e-scooter that brings off-road performance into the urban environment. The ZERO 10X e-scooter is able to hit a top speed of up to 65 km/h and has a range of 85 km in a single charge. With its 10 x 3 inch tires and front and rear spring hydraulic suspension.
The Z10X performance outranks all other escooters in its price range. Making the ZERO 10X great value for money alternative to other high performance e-scooters like the Dualtron.
The Dual 1000W hub motors on the ZERO 10X Dual provides a nominal total power output of 2000W and a peak power output of 3200W. This 3200W power output is powered by 2 x 25A speed controllers with massive heat sinks to dissipate heat as quickly as possible. Maintaining optimal performance of the e-scooter at all times.
Battery 60V 21Ah (LG)
Wheel 10 inches
Tyre type Front & rear pneumatic
Brakes Front and rear hydraulic brakes
Range 60km (Eco mode)Top Speed 65km/h
Weight 35 Kg
Max. Load 120 Kg
Suspension Front and rear spring hydraulic suspension
Lights Front & rear LEDs
Controller 2 x 25A
Motor Power 2 x 1200W (peak power output of 3600W)
Warranty 6 months Limited Warranty
Box Dim. 123 x 32 x 50 cm
User Manual ZERO 10X LCD User Manual
POWER
2 x 1200W (peak power output of 3600W)

TIRES
Front & rear pneumatic
Test Ride ZERO 10X Electric Scooter Before You Buy
BOOK A NO-OBLIGATION TEST DRIVE TODAY. LET'S FIND THE RIGHT ELECTRIC SCOOTER FOR YOU
ZERO 10X Electric Scooter WARRANTY

PARTS
1 Year Limited Warranty On Parts, Controller, Display, Throttle, Brakes etc ...

BATTERY
6 Months Limited Warranty On Battery, 6 Months On Branded Battery
R\E
3 Days Easy Return And Exchange Policy. Terms & Conditions*
ZERO 10X Electric Scooter REPAIR
TOP-NOTCH WORK • HIGHEST QUALITY PARTS • FAIR PRICES
ZERO 10X Electric Scooter