NAVEE S65C ELECTRIC SCOOTER
NAVEE S65C ELECTRIC SCOOTER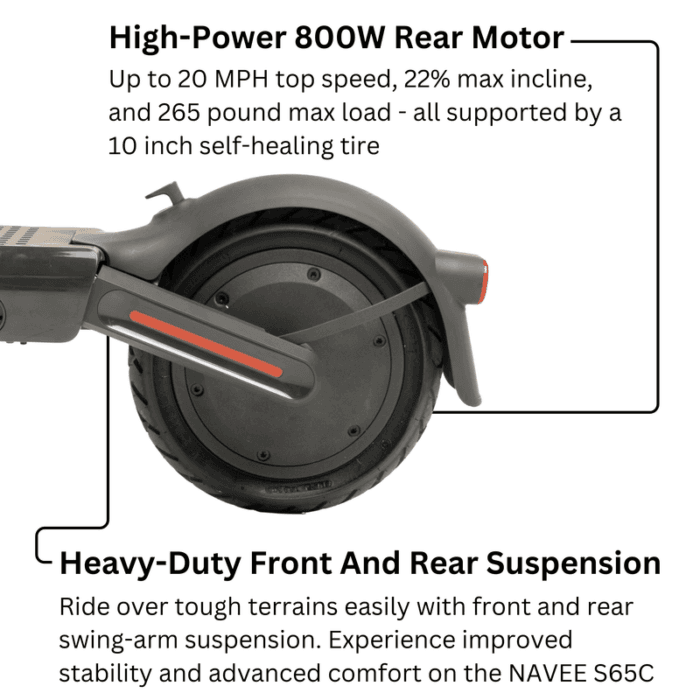 Introducing the all-new, lightweight, ultra-portable, and reliable Navee S65C electric scooter! The Navee S65C eScooter is one of the most reliable scooters on the market, with a weather and dust resistant IP55 rating and UL certification, making the Navee S-Series, one of the safest most reliable electric scooters on the market to date. Navee electric scooters are fun, affordable, and environmentally friendly way to travel, explore, or commute to school or work!
NAVEE S65C ELECTRIC SCOOTER
Max. Range: 40 Miles
Max. Speed: 20 MPH
Motor: 800W
Connectivity: Full management via NAVEE App
Tires: 10″ Self-sealing tubeless tires
Max. Incline: 22%
Brakes: Front Drum Brakes + Rear E-ABS
Battery: 36V 15Ah
Water Resistance: IP55
Headlight: 2.5W
Taillight and brake light automatic
Product Size Unfolded (L*W*H): 48.4*21.1*50.6 inches
Product Size Folded (L*W*H): 48.4*20.9*22.2 inches
Scooter Weight: 60 lbs
Max Riding Weight: 265 lbs
BATTERY
POWER
TOP SPEED

RANGE
TIRES
MAX LOAD
Test Ride NAVEE S65C ELECTRIC SCOOTER Before You Buy
BOOK A NO-OBLIGATION TEST DRIVE TODAY. LET'S FIND THE RIGHT ELECTRIC SCOOTER FOR YOU
NAVEE S65C ELECTRIC SCOOTER WARRANTY

PARTS
1 Year Limited Warranty On Parts, Controller, Display, Throttle, Brakes etc ...

BATTERY
6 Months Limited Warranty On Battery, 6 Months On Branded Battery
R\E
3 Days Easy Return And Exchange Policy. Terms & Conditions*
NAVEE S65C ELECTRIC SCOOTER REPAIR
TOP-NOTCH WORK • HIGHEST QUALITY PARTS • FAIR PRICES
NAVEE S65C ELECTRIC SCOOTER