Joyor S10 Electric Scooter
Joyor S10 Electric Scooter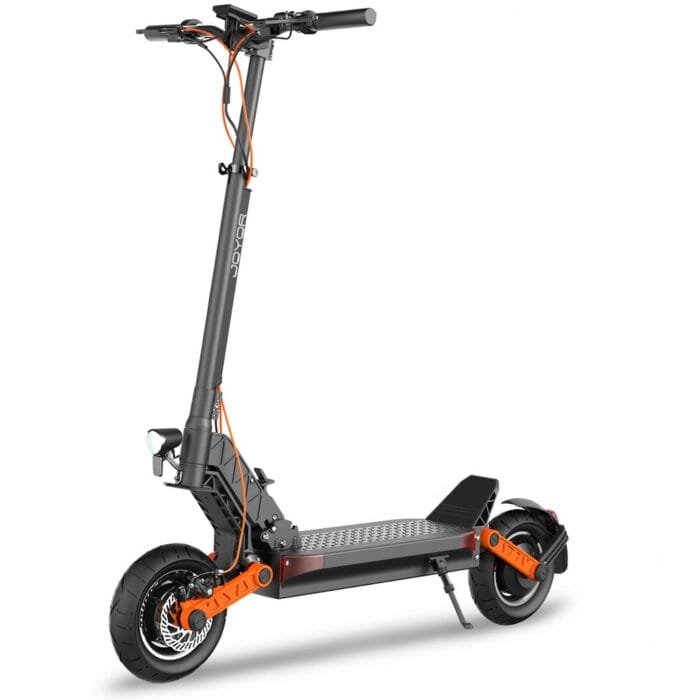 The Joyor S10 Electric Scooter competition electric scooter delivers impressive horsepower, high-performance features, and stunning design for next-level exhilaration. Incredible engineering defines the new XMS95. Innovation is at the heart of what moves you. The XMS95 Series electric scooter embodies that spirit to its core.
Enjoy every refinement, every detail, every moment – exactly as you want.Imbued with legendary performance and the defining elements of sports, the XMS95 Series earned its place as Joyor's flagship electric scooter. A luxurious, bold electric scooter – designed to showcase elegant details, precise lines, and a dramatic exterior.
With their slim silhouette and seamless light band, the XMS95 Series electric scooter's sidelights are a bold design statement. The XMS95 pushes the limits of compelling design into new territory. Performance Mastered.
Battery Capacity: 18000mAh/18Ah/1080Wh
Battery Voltage: 60V
Motor Type: 2000W Brushless DC Motor
Travel Distance: 55.9-56.5 miles
Weight: 53.8 Lbs
Dimension (Upright): 47.2*21.6*46.8 inches
Dimension (Folded): 45.2*6.2*14.9 inches
Maximum Speed: 43.5 mph
Tire Type: 10″ Inflation-Free All-Terrain Tires
Charging Time: 10-12 hours
Max Load: 265 Lbs
Controller Current Limit: 17A±0.5A
Working Temperature: -10°C to 40°C
Storage Temperature: -20°C to 45°C
Controller Undervoltage Protection: 29V±0.5V
Rider Height: 3.9′ – 6.6′
Rider Age: Age 16-50
IP-Rating: IP54
Speed Level Options: Three Speed (9.9 / 19.8 / 43.5 mph)
BATTERY
18000mAh/18Ah/1080Wh

Test Ride Joyor S10 Electric Scooter Before You Buy
BOOK A NO-OBLIGATION TEST DRIVE TODAY. LET'S FIND THE RIGHT ELECTRIC SCOOTER FOR YOU
Joyor S10 Electric Scooter WARRANTY

PARTS
1 Year Limited Warranty On Parts, Controller, Display, Throttle, Brakes etc ...

BATTERY
6 Months Limited Warranty On Battery, 6 Months On Branded Battery
R\E
3 Days Easy Return And Exchange Policy. Terms & Conditions*
Joyor S10 Electric Scooter REPAIR
TOP-NOTCH WORK • HIGHEST QUALITY PARTS • FAIR PRICES
Joyor S10 Electric Scooter