Yume M10 Electric Scooter
Yume M10 Electric Scooter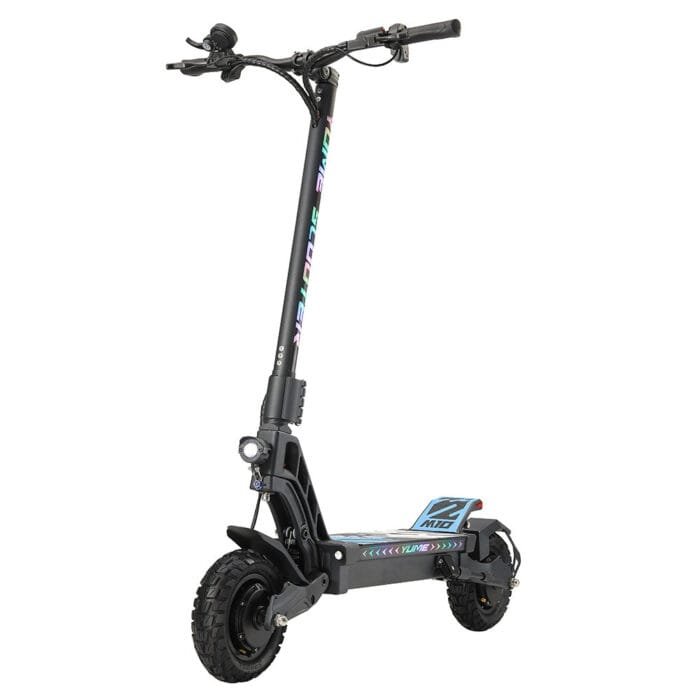 YUME M10 sports an EV-grade battery using 21700 cells with a total capacity of 60V 22.5Ah and averages 45 miles in range with full charge (terrain dependant). The scooter supports dual charging.
The M10's battery management system features multiple safety sensors including over-current, short circuit, abnormal temperature, overcharge, and over-discharge protection. An automatic sleep function is also incorporated when the scooter is not in use.
Motor: 2400-watt dual motor with hall sensor
Max Speed: 60V Up to 43MPH (depending on rider's weight, state of charge, road conditions, etc.)
Battery: 60V 22.5Ah
Range: 45Miles – Flat road 25km/h Single Drive \ 27Miles – Complex terrain Dual Drive
Display Features: Riding mode setting ability Smart display with Over heat protection built in IP65
Tire: 10×3.15″ All Terrain Tires
Brake: Front and Rear ZOOM Hydraulic disc brake with 160mm rotor and cooling fin pad
Front & Rear Suspension: Ajustable Hydraulic suspension
Light: Aluminum Front LED light + Brake light + 2turn signal + Horn
LED Side Lights: Deck and Stem colorful lights with remote control
IP Rating: IP 55 for the whole scooter
Weight: 77lbs/35KG(with seat add 2kg)
Charger: Standard 2*2A chargers(Dual charging port in the scooter)
Overall size: 1300*720*1400
POWER
2400-watt dual motor with hall sensor

TIRES
10×3.15″ All Terrain Tires
BOOK A NO-OBLIGATION TEST DRIVE TODAY. LET'S FIND THE RIGHT ELECTRIC SCOOTER FOR YOU
Yume M10 Electric Scooter WARRANTY

PARTS
1 Year Limited Warranty On Parts, Controller, Display, Throttle, Brakes etc ...

BATTERY
6 Months Limited Warranty On Battery, 6 Months On Branded Battery
R\E
3 Days Easy Return And Exchange Policy. Terms & Conditions*
Yume M10 Electric Scooter REPAIR
TOP-NOTCH WORK • HIGHEST QUALITY PARTS • FAIR PRICES
Yume M10 Electric Scooter